City welcomes robotic Crawler to monitor its pipelines
The City will soon take delivery of a robotic device to help monitor its water and sanitation infrastructure. This new system will not only save the City thousands of rands in repairs, but will also improve service delivery.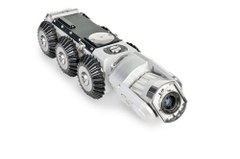 Within the next two months, the City of Cape Town's Water and Sanitation Department will begin using a closed-circuit television (CCTV) pipeline inspection system. This system includes a robotic car known as the Crawler, which is designed to identify cracks, leaks and obstructions inside a pipeline.
Fitted with an on-board camera, the Crawler is remotely controlled by an operator. The device is suspended into a sewer manhole and is placed on an invert level (i.e. the floor level). It is then possible to either inspect or survey upstream or downstream. The operator drives the Crawler down the pipe and records all events and obstructions such as cracks, breakages, joint displacements and faults.
The remaining components of the CCTV pipeline inspection system are fitted into a van which contains a computer. The computer uses specialised software which is designed to capture and grade the pipeline damage based on the events and obstructions recorded therein. This system is most commonly used in pipelines ranging in diameter from 150 mm – 400 mm.
This is yet another example of how the City is using technology and innovation to improve the lives of its residents. The Crawler can identify a pipe that has fat build-up. If undetected, these build-ups may cause blockages and eventually lead to sewer spills in the road or walkways, which is not only unpleasant, but affects services.
"With this technology, we can identify problems before they occur. For example, if a pipe has a longitudinal crack (a crack along the length of the pipe), chances are the pipe will collapse, given the flow rate and flow capacity. So, as a result, the inspection prevents incidents before they occur. Maintenance teams are now able to execute a pipe replacement or repair, thereby saving the cost of a collapsed pipe and the damage it causes," said the City's Mayoral Committee Member for Utility Services, Councillor Ernest Sonnenberg.
The CCTV pipeline inspection system also saves money by picking up tree root ingress into the pipeline. What starts off as minor root ingress can eventually cause blockages and obstruct water flow after a few months as the roots grow. The Crawler is now able to identify these problems in advance so that they can be dealt with before any serious damage is done.
"Up until now, the City has been utilising this technology on an outsourced basis, but will now purchase four CCTV pipeline inspection systems of its own at a cost of R2,4 million each. The City's sewer network comprises in excess of 9 500 kilometres of underground pipework. Sewer blockages and collapses can cause major problems and lead to insurance claims, costly repairs to structures other than pipes, as well as reinstatement costs. One blockage or collapse on a main road can easily cost up to R300 000 to repair, also taking into account the cost of traffic accommodation, labour, overtime, plant hire, layer works, replacement pipes and the construction of manholes. After eight pipeline inspections, the City will have already paid back the cost of one system," said Councillor Sonnenberg.