Chasewater Reservoir: High-tech Lanes for Drains PLC Reveals Secrets of the Past
Lanes for Drains PLC has used its 21st Century sewer surveillance technology to reveal the 200-year-old hidden secrets of one of the UK's largest man-made reservoirs. The company was called in to work on a £5.5m project to repair a dam at the 108 hectare Chasewater reservoir near Lichfield in Staffordshire, owned by Staffordshire County Council. The dam was built at the same time as the reservoir was created in 1796, making it one of the oldest reservoir dams in the UK.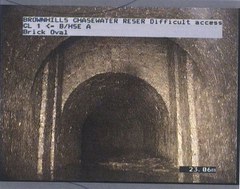 Main contractor Galliford Try contracted Lanes for Drains PLC, the UK's largest independent drainage specialist, to carry out a CCTV survey on a 100 metre long brick-lined culvert that had not been opened up since it was built. Engineers from Lanes' Birmingham depot found that the drawdown culvert, 1m high and 0.9m wide and designed to control the release of water from the reservoir, was 70 per cent blocked with silt and bricks.
They used a Kaiser-Whale recycling jet vac tanker to clear the debris – while continuously monitoring progress with HD quality video footage from an IPEK Rovver 225 main crawler camera. During the work, the team discovered a large chamber not identified on the plans.
Lanes for Drains PLC's lead engineer Dave Faris said: "It was special to be able to work in a structure that had not been seen for 200 years. But its age and the working conditions made this a particularly challenging job."
Usually, the jet vac tanker can be used to blast debris with water under 3,000 pounds per square inch of pressure, liquefying it so it can be removed in a continuous process.
Dave Faris said: "Because we were working on the bed of a drained reservoir with limited access to the culvert, we had to clear it in two metre sections. "Due to the remote location, the jet vac hydraulics couldn't be used, so the main high pressure water jet had to be manually handled on each two metre section. It was not the conventional way to do it, but at Lanes we're used to finding ways round difficult problems."
The IPEK camera was used to monitor progress then carry out a full surveillance survey of the culvert. In all, the project took four and a half days.
Ronan O'Cualain, Site Agent for Galliford Try, said: "It was not a straight forward job for Lanes for Drains but we knew they had the knowhow and technology to get it done. The engineers from both companies worked well together to achieve a good outcome."
The hidden chamber, measuring 1.5m by 2m, was discovered 25 metres into the culvert – 3.5 metres under the floor of the reservoir.
"It was a special moment when we saw the chamber on the screen," said Dave Farris. "It opened up like a large vaulted ceiling. The quality of the brickwork was spectacular. Even though it's two centuries old, it's still in very good condition."
Chasewater reservoir, originally built to supply water to local canals, was emptied in 2010 after surveys revealed weaknesses in its main dam.
Changes to the dam will help engineers monitoring its state and flow rates. The stripping of trees from the dam now makes visual inspection much easier and means repairs will be identified much more easily.
The repair work was commissioned by Staffordshire County Council.
County Councillor Mark Winnington, Cabinet Member for Environment and Assets, said: "The project is now estimated to come in at a cost of £5.5 million, £600,000 under budget, by the time it is completed in spring 2012. "The council's investment has ensured the safety of those living downstream from the reservoir, provided long term protection for unique wildlife habitats, a water source for the West Midlands canal network, and has safeguarded the future prosperity of an important local and regional attraction."
The reservoir, part of Chasewater Country Park, is expected to be refilled, under normal weather conditions, by summer 2013.