Centre launched to tackle economic and environmental impacts of groundwater on urban infrastructure
Atkins has today signed an agreement launching a Centre for Research and Innovation with the University of Birmingham, Imperial College London, and the British Geological Survey, to tackle the economic and environmental impacts of groundwater infiltration on urban infrastructure in the UK which is estimated to cost tens of millions of pounds per year.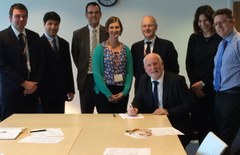 For the first two years, the Centre will be focused on sewerage infrastructure where water seeping through cracked pipes is estimated to account for 40% of flow in the network, which:
reduces sewer capacity;
damages infrastructure;
poses a serious challenge for operations; and
deteriorates the quality of the receiving waters and ecosystem services.
It's believed the issue costs the water industry millions of pounds every year and in 2013/14 three water companies in the UK spent an additional £80 million in responding to the impacts of infiltration.
The Centre will be undertaking research with academia, researchers and industry to bring innovative and practicable outcomes, so that significant financial and environmental benefits can be brought to this longstanding industry problem.
Adam Cambridge, technical authority for urban stormwater management at Atkins, said: "For decades infiltration has been a long standing infrastructure challenge for our industry. Local communities are often the ones most affected by the problem. This is the first time we've taken a co-ordinated approach to tackle the impacts of infiltration facing our infrastructure head on. Over the next five years, the Centre will bring together academics, researchers and industry to build an integrated approach in managing the environmental risk and economic impact to our sewerage network across the UK, hopefully freeing up capacity, reducing the overspills and saving millions of pounds in the process."
Dr Chris Jackson, a principal scientist at the British Geological Survey, said: "This new collaborative Centre is an exciting opportunity to build on our NERC-funded environmental modelling and groundwater research. The Centre brings together a wide range of expertise from industry and academia. By working together, and by collaborating with a range of stakeholders, we hope to realise significant benefits not only for the water industry but also for local communities".
Dr Ana Mijic, lecturer in urban water management at the Imperial College London, said: "The Centre presents a great platform for translating the scientific knowledge into innovative and end-users informed approaches and tools for addressing an important issue of groundwater impacts on urban infrastructure. We are hoping to deliver a wide range of environmental and economic benefits, and identify stakeholder-relevant research themes and projects."
The long term aim of the Centre is to develop preventative techniques that will reduce on-going asset management costs as well as improve environmental standards and customer service for the industry. At times of increased wet weather and flooding across the UK, like over the 2013/14 winter, these techniques will also directly reduce the risk of flooding experienced in towns and cities including schools, homes, and local businesses.
Bringing together academics, researchers, and the water industry, the Centre will host its first conference on 20 November 2015, where together with partners, an integrated research programme will be developed to begin the journey of building in innovation into the planning of future infrastructure projects.