Burdens on schedule to expand its range of SAER pumps
As the sole distribution partner for SAER pumps in the UK and Republic of Ireland, Burdens is delighted to announce details of the latest additions to the Company's range.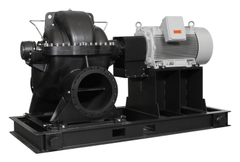 Designed and manufactured in-house, SAER SKD split case pumps reach capacities of up to 5000m³/h and 21 bars. Their maximum power is 1200kW, in either 50 or 60Hz, from two to eight poles. The pump's hydraulic systems are designed entirely with CFD software using fluid dynamics analysis. This cutting edge modelling system has enabled SAER to create a high quality blade with low nett positive suction head together with no areas of depression to cause cavitation erosion. At the same time, the double volute pump body eliminates radial force, ensuring high flow rates. The result is a reliable product with up to 90% efficiency, low running cost and (thanks to minimum radial thrusts on the shaft) low wear and maintenance. SAER SKD split case pumps are ideal for applications in circulation plants, heating and air conditioning, heat recovery, water supply, fire-fighting, irrigation systems, and water-treatment plants.
NCBK is SAER's latest range of bare shaft end-suction pumps for recirculating systems, heating, cooling, heat recovery, water supply, fire pumps and booster sets, far exceeding the specification of EN 733. The series is available in nine ranges, all with four or six poles: 150– 500, 200–315, 200–400, 200–500, 250–315, 250–400, 250–500, 300–400 and 300–500, with 300–315 soon to be announced. Available in cast iron or AISI 316 steel, NCBK pumps offer excellent performance up to Qmax = 2200m³/h, Hmax = 95m.
In addition, SAER offer an on demand design and manufacture facility for bespoke products with the capability of integrating these specialist units into its wider range. This is how SAER's popular SM ballast pump series was created, with installations primarily in the marine industry to empty dry docks. At present, SM pumps can be produced up to 10in. (400m³/h, 95 bar, 170kW). Case materials include AISI 316 and marine bronze G-CuSn10.
Normalised pumps to EN 733 also feature strongly in the SAER product portfolio, available as monoblock, stub shaft or bare shaft, up to 2200 m³/h, electric submersible pumps from 4in. to 14in., radial or semi-axial, submersible motors, both oil-filled (4in. and 6in.) and water-filled (6–12in.), horizontal and vertical multi-stage pumps (0.75–500kW), split case and ballast pumps, booster sets, and domestic pumps. All are available in a range of metals (cast iron, carbon steel, 316 stainless steel, bronze, duplex stainless steel, etc.), thus providing an ample application range.
With all components manufactured in-house and units constructed from a range of multiple metal options, SAER offer an enviable suite of pumps that both economically and reliably fulfil an increasingly wide range of applications.