BUDERUS information day at TT Group HQ
Buderus Giesserei Wetzlar GmbH, the ductile iron pipe manufacturer from Wetzlar, invited their sales partners and customers from many European countries to visit the TT Group Headquarters in Lennestadt, a leading manufacturer in trenchless installation technology.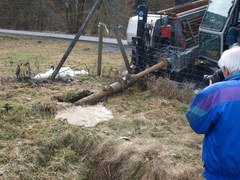 The reason for the joint initiative between Buderus and TT Group was the increased interest in the installation of ductile iron pipes using the trenchless installation method.
Ductile iron pipes have advantages, especially for drinking water suppliers, because of their cement mortar linings. They are especially suitable for high operating pressures and have an impressive long service life and non-corrosive capability of over 140 years.
For the trenchless installation of these pipes the TT Group offers the GRUNDODRILL HDD bore method, the GRUNDOBURST/GRUNDOCRACK pipe bursting/cracking method and the cable plow method for ductile iron pipe installation. This enables a nominal pipe range from 80 to 1000mm to be installed.
"These are interesting application areas, where we would like to be more strongly involved" commented Manfred Hoffmann, the Buderus Export Sales Manager.
With over 70 participants involved, the response was much higher than expected. Björn Freimuth, TT specialist for pipe bursting/cracking commented: "We had expected 20 visitors at the most." According to Björn the strong interest is due to the Buderus book describing the trenchless installation of ductile iron pipes, which was issued at the end of 2007, distributed in German and English and has become valued as a really useful installer's guidebook.
The highlight of this information event was the practical demonstrations on the TT Group's own test site. One excited participant commented: "You don't get to see this everyday. The demonstrations have really impressed me immensely."
The HDD bore rig Grundodrill 25 N which installed the ductile iron pipe ND 100 was on show. The pipe bursting rig Grundoburst 400G, with it's unique QuickLock rod and roller blade cutting accessories,`1 cut open an old steel pipe with a roller blade and simultaneously pulled in a ductile iron pipe ND 100. On this occasion in order to demonstrate the pipe bursting technology more clearly the work was carried out on the surface.
Contact:
TT-UK LTD
Windsor Road
Bedford, MK 42 9SU
PH.: (+44) 1234 342566
FAX: (+44) 1234 352184
E-Mail: info@tt-uk.com
Internet: www.tt-uk.com