British Water seeks case studies for data and analytics library
British Water's Data & Analytics Focus Group is calling on professionals from the water and utilities sector to contribute case studies and unsolved challenges. A searchable, universally accessible digital library is being created by the group to share examples of best practice and encourage collaboration.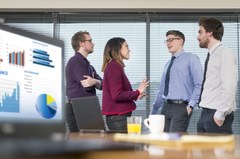 British Water technical director Marta Perez said, "We would like as many case studies as possible from within the water industry and from other relevant sectors. Data is where the big efficiency gains in water can be made, but there is still a lot for utilities, large water users, academics and practitioners across the supply chain to learn."
The Data & Analytics Focus Group brings together experts on data capturing, processing and usage from across the industry and is open to all British Water members. The application stories will feed into a code of practice currently under development by the Group.
Joe Roebuck is convenor of the Data & Analytics Focus Group and business analytics director at SEAMS. He says the data and analytics library, which will be hosted on British Water's website, should include examples from all levels and areas of business and operations.
Broad remit
"The remit is very broad, from the data capture that feeds into strategy planning for the five-year price reviews UK utilities have to produce, down to where in the network monitoring devices are placed.
"Examples could come from asset management, customer service, process efficiency, leakage, water quality, cyber security and health & safety. We are also interested to find best practice in the visualisation and communication of data – how to match data display and dashboards to different users."
Roebuck says the group also would like to hear about the outstanding and emerging issues facing utilities and large water users on the data and analytics front, as well as completed projects.
"What are the challenges facing end-users?" he asks, and "what do they need from the supply chain?
"Better understanding and huge efficiencies can be achieved when the correct data is gathered and analysed appropriately. A rich bank of application stories and industry challenges will help the group develop a robust code of practice."