British Water pledges greater collaboration to address industry changes
Trade association British Water is strengthening its capacity to help members achieve greater collaboration and even closer engagement with industry partners. The commitment comes in response to regulatory changes in the sector and the introduction of non-domestic retail competition in 2017.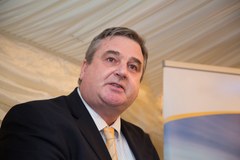 British Water's chairman, Tony Williams said, "Over AMP6 there is likely to be ever-increasing collaboration and even greater engagement across the supply chain. "The water industry in England and Wales has just completed the challenging first year of the five-year AMP6 regulatory cycle, with the utilities and supply chain getting to grips with outcomes, performance commitments, dynamic frontiers and totex - all under the scrutiny of customer satisfaction and an emerging new regulatory framework. It is no secret that closer working and better understanding between partners is key to delivering the outcomes required by Ofwat."
He continued, "In addition, non-domestic retail competition is almost here. Water companies now sit within the supply chain and in the circular economy; wastewater is now counted as a resource for energy production. "With all this movement and the background challenges of climate change and Brexit, there are significant opportunities for British Water and our members; for innovators and forward-thinking businesses. British Water recognizes the need for both the association and our members to be agile and adjust quickly to new market drivers."
Mr Williams said, "Over the next year our members will experience closer contact with British Water as we endeavour to gain deeper understanding of the direct impact of these changes on our supply chain. I urge any businesses and organisations working in the sector to join up to take full advantage." The trade association, which has been supporting and representing the interests of the water and wastewater industry in the UK and overseas for over 80 years, has made impressive senior appointments in recent months, including Chris Loughlin, Group Chief Executive, Pennon Group, who has accepted the position of Deputy Chairman, and Professor Tony Conway of Sheffield University and formerly Director of United Utilities.
Mr Williams said, "These appointments demonstrate a commitment to greater vertical integration in the supply chain and links to academia. They are an indicator of the future composition of our association and the collaboration and innovation agenda we are delivering." He concluded, "Our sector is in a period of dynamic change and as we all adjust to new challenges and drivers, I am confident that British Water is well positioned to progress the interests of our members, provide the support and services they expect and position the association for the future water market."
Contact
British Water
Vox Studios, Unit V03 1-45, 1 Durham St
SE11 5JH London
United Kingdom
Phone:
+44 (0) 20 3567 0950
Fax:
+44 (0) 20 3567 0961
E-Mail:
info@britishwater.co.uk
Internet:
To website