Boston Water & Sewer Commission Selects Sedaru to Analyze, Optimize Its Asset Replacement Projects
Sedaru, Inc. announced that Boston Water & Sewer Commission, MA (BWSC) has selected Sedaru to deliver software and services for asset management, capital planning, and water system modeling. Sedaru OMNI, Sedaru CIP, and Sedaru Modeling will deliver risk-based asset performance modeling and planning tools for BWSC to analyze, visualize, and prioritize pipeline replacement projects for its water distribution and sewer collection systems.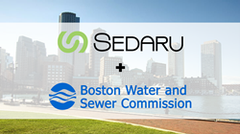 BWSC engineers and system operators will be empowered with easy-to-use applications to interact with integrated data from across the enterprise, increasing stakeholder engagement with more informed decision making.
Sedaru CIP will allow BWSC to leverage its existing GIS data, capital planning data, and hydraulic model results to dynamically prioritize capital plans for the replacement and rehabilitation of water distribution and sewer collection system piping. Sedaru CIP applies likelihood of failure (LoF), consequence of failure (CoF), and project sequencing criteria to calculate a score and priority for each pipeline.
Construction constraints, such as rights-of-way or paving, further enable BWSC to develop an optimal action plan, sequenced with street paving schedules. BWSC will receive recommended projects with associated costs, deficiencies addressed, and customers benefited with higher, quantified return on investment to harness and improve upon institutional experience.
Sedaru Modeling will allow BWSC staff across the organization to use its calibrated water system hydraulic model to simulate common hydraulic "what-if" scenarios, enabling engineering decisions to be made more efficiently while supporting major initiatives at BWSC. Non-technical staff can use the Sedaru Modeling application to perform regular tasks such as fire flow evaluations while applying risk-based, hydraulic model results to feed Sedaru CIP criteria to help prioritize most critical pipes.
Sedaru was selected after an open, comprehensive, and competitive RFP process. "We feel confident Sedaru CIP and Modeling will allow our organization to make resource-saving decisions with actionable data," said John Sullivan, Chief Engineer for BWSC.
"Integrating asset management data from different systems and departments allows those stakeholders to be represented, while applying LoF and CoF for each quantified, recommended CIP project. We're thankful for the selection, and look forward to supporting BWSC's internal stakeholders immediately, and years into the future," said Paul Hauffen, President & CEO, Sedaru, Inc.
About BWSC
Boston Water and Sewer Commission manages the largest and oldest system of its kind in New England, providing drinking water and sewer services to more than one million people daily. BWSC is a recognized leader in asset management and was recently presented the JD Power award for superior customer service. The goal of BWSC is to provide residents and businesses in the city of Boston with the best quality water and sewer services available in a way that is both protective of the environment and financially prudent.
About Sedaru
Sedaru operates the world's leading utility management software as the singular, exclusive interface for utilities to access information, automation, and control of the business and assets they run. We do this by creating, automating, and consolidating the digital utility, one workflow, one sensor, one system at a time to bring together the organization's data, systems, and the people they serve with Sedaru software and services.
Request a demo
to see how Sedaru can work for your utility.
Contact
Sedaru
168 E Arrow Hwy # 101
CA 91773 San Dimas
United States
Phone:
+1 714 595 9751
E-Mail:
info@sedaru.com
Internet:
To website