BorSafe proves its value to durable pipe systems around the world
Pipe producers and fittings manufacturers from Europe to China are recognising the processing and long-term performance benefits of recent introductions to the BorSafe™ product range from Borealis, a leading provider of innovative, value creating plastics solutions. BorSafe polyethylene (PE) pressure pipe and fitting grades reflect Borealis' commitment to contributing to better, safer and more durable pipe systems for drinking water, sanitation and gas distribution.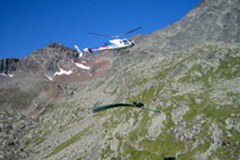 The development of BorSafe solutions reflects the commitment of Borealis and Borouge to develop sustainable solutions to address the global water challenge and to enhance the access to safe drinking water and sanitation around the world. The United Nations calculates that over 1 billion people do not have access to safe water, making water conservation one of the most urgent global challenges. Similarly, with an estimated 2 billion people worldwide lacking adequate sanitation, enhancing the performance of sewage networks around the world can deliver much needed environmental, societal and economic benefits.
The most recent addition to the BorSafe product range, BorSafe HE3490-LS-H, creates PE pipes with exceptional resistance to slow crack growth, more than 100 times the European standard requirements for PE water and gas pressure. This makes such pipes ideal for overcoming tough handling conditions and installation techniques such as pipe bursting and horizontal directional drilling. It provides pipes with a long-term durability and helps to prevent leaks.
From a processing perspective, BorSafe HE3490-LS-H offers excellent extrudability, helping to ease production and ensure consistent pipe quality for converters.
This combination of benefits provided an optimal solution to AGRU Kunststofftechnik, one of the leading innovative pipe producers in Austria, who selected BorSafe HE3490-LS-H for its Sureline II pipe range designed specifically for demanding installation conditions. Sureline II pipes were installed in a sewage network system for the "Innsbrucker Hütte", Innsbruck's alpine lodge in Austria. Pipes had to be transported to an altitude of 2,369 metres above sea level and laid without sand-bedding in this rocky environment at a steep gradient.
Peter Riegl, Manager of Quality Assurance of AGRU Kunststofftechnik, testifies to the advantages: "Installing pipes in this environment is a challenge, and it was of course not possible to use a traditional open-trench with sand-bed. With BorSafe HE3490-LS-H, we could be confident that our Sureline II sewage pipes would withstand the difficult transport and installation conditions. Their consistent, long-term performance will provide a sustainable sewage disposal solution not possible with standard pipes."
From the pipe fittings market, United Kingdom-based Fusion, one of the world's leading manufacturers of electro fusion fittings, has been one of the first to identify the range of value benefits offered by Borsafe HE3490-IM. The new solution is the first PE100 grade especially designed for the production of injection moulded pressure fittings. BorSafe HE3490-IM enables the production of fittings with lower internal stresses, less warpage and improved surface aesthetics.
This results in greater quality consistency and more reliable, better performing finished fittings. Borsafe HE3490-IM offers the processing friendliness of a PE80 material, delivering shorter cycle times and lower scrap rates, allowing manufacturers to benefit from the high performance of a PE100 but with reduced production costs.
Eric Bridgstock, founder of the Fusion group, says: "BorSafe has contributed to optimising our production process for PE100 fittings at our Chesterfield manufacturing site due to the easy flow properties of the material. We have decided to use the same materials at our production facilities in China, as we are committed to producing fittings according to the same high quality standards for our customers in Asia."
BorSafe grades are produced using Borealis' proprietary Borstar PE 2G technology, the latest generation of multi-modal processes that enables the molecular tailoring of PE to provide an optimal balance between processability and mechanical strength.
Innovation and sustainable solutions like BorSafe are key to Water for the World, a programme pioneered by Borealis and Borouge that aims to foster partnerships and knowledge throughout the value chain to provide sustainable solutions for the availability of safe drinking water and sanitation.
Contact information:
Borealis AG
Liesbeth Denys
Trade Media Relations Manager
Wagramerstrasse 17-19
1220 Vienna
Austria
phone: +43 (0) 1 22 400-0
fax: +43 (0) 1 22 400-333
eMail: media@borealisgroup.com
Web: http://www.borealisgroup.com