BorSafe? PE100 LS- H pipes raise the quality of drinking water and sanitation networks in Poland
Residents of five communities in the Polish province of West Pomerania are already experiencing the benefits of an improved drinking water and sanitation network thanks to an on-going project to upgrade and expand the existing system with pipes based on BorSafe™ PE100 LS-H from Borealis, a leading provider of chemical and innovative plastics solutions.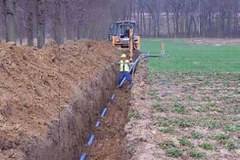 Currently more than 60% of the 281km of new pipelines for drinking water and a 219km force sewage network are in operation within West Pomerania's Parseta river basin area, helping to meet growing community needs as well as EU standards. In many cases drinking water had been drawn directly from deep underground wells with inadequate or no treatment before the network was built. Furthermore, some of the previous pipelines were placed on asbestos cement, which is now banned in many countries as a health hazard.
The three year network renewal project, planned and overseen by the Regional Water and Sewage Company, began in November 2008. TYTAN multilayer PE100-RC pressure pipes from Polish producer Przedsiebiorstwo Barbara Kaczmarek Sp J, based on BorSafe HE3490-LSH and BorSafe HE3494-LS-H, were selected in order to provide the required long-term service reliability and meet the cost constraints and tough laying conditions of this major project.
Owing to the mix of urban and rural environments covered by the network, the region's water and sewerage system specialist, EkoWodrol Ltd of Koszalin, determined that both open trench installation and the more environmentally-friendly directional drilling method would be necessary to avoid disruption in the built-up areas and to preserve locations of natural beauty. Ease and therefore speed of installation, and pipe integrity to minimise potential maintenance requirements were given top priority because of the location demands and the overall large scale of the project.
BorSafe HE3490-LS-H and BorSafe HE3494-LS-H are leading edge products based on Borealis' proprietary Borstar® bimodal technology. The materials have been specifically developed to deliver very high resistance to point loading and to slow crack growth. Pipes based on these materials have an expected service life exceeding 100 years.
Low notch sensitivity ensures resistance to cuts and abrasions during transportation and installation, making the pipes ideally suited to the demands of the directional drilling technique. The robust nature of the pipes meant rough materials excavated in trench digging could be used for backfilling after pipe laying, thereby eliminating the added cost of importing softer soils for filling purposes without compromising in-use performance.
With 185km of the drinking water network and 97km of the new sewage system now laid, the project is on target for completion in 2011. The combination of benefits has ensured speed and economy of installation without compromising in-use performance.
"We are confident that the superior performance of BorSafe PE100 LS-H pipes has created savings in installation time and therefore overall project time, and ensures a long anticipated working life for the systems, adding up to maximised investment for the Regional Water and Sewage Company," comments Christophe Salles, Application Marketing Manager for Pipe. "Most importantly however, the five communities within the Parseta river basin can be confident of having a high quality drinking water and sanitation network well into the future."
Borealis AG
IZD Tower
Wagramerstraße 17-19
1220 Vienna
Austria
Tel.: +43 (0) 1 22 4000
Fax: +43 (0) 1 22 400 333
Email:
Internet: http://www.borealisgroup.com