Borouge's pipe solutions contribute to better agricultural crops with limited water resources
Borouge reinforced its position as a key player in the pipe systems market through participating for the first time at the AGRA Middle East 2013, the region's largest agribusiness trade show.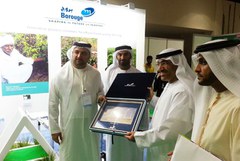 Held under the patronage of H.E. Dr. Rashid Ahmad bin Fahad, UAE Minister of Environment and Water, and opened by H.E. Abdul Rahman Mohammed Al Owais, UAE Minister of Health, the AGRA ME exhibition and conference provide a platform for Borouge to showcase its portfolio of innovative solutions that use unique technologies for durable greenhouse films and efficient drip irrigation systems that contribute to having increased and quality agricultural crops.

"Participating in this important event helps Borouge to underpin its commitment to sustainability through providing innovative solutions that contribute to addressing the challenges of increasing food production and helping farmers to enhance the growth of their crops by using sustainable applications such as durable greenhouse films and effective, water-saving irrigation systems," said Hussain Sultan Lootah, Senior Vice President Middle East Africa. "Produced with the most advanced technologies, Borouge's Borstar® enhanced polyethylene plastics solutions are useful for the two main agricultural applications of growing and storage, giving growers the advantages of increasing the production volume of their crops and shortening the growth duration."

For growing applications, Borouge utilizes the unique Borstar® technology to produce the FB2230 product that is used in greenhouse films. This film receives sunlight and spreads and diffuses it evenly and in the most efficient way all over the plants helping to improve the growth of quality crops. Borouge's FB2230 are used to produce distinguished greenhouse films that are recognized with their mechanical performance, in addition to small tunnel films, direct covers, mulch films, shading nets and screens and drip irrigation. Greenhouse films made of Borstar® enhanced polyethylene prevent crops damage and maintain its shape even in tough weather conditions.

"As a leader in innovative plastic pipe solutions and committing to address the challenge of increasing food production with limited water resources, Borouge provides producers of pipes for agricultural applications its tailor-made Borstar® Aquility™ range of performance solutions for durable drip irrigation systems," said Lootah. These drip irrigation systems can eliminate water wastage by providing a continuous and controlled flow of water through a chain of pipes and drippers, directly to the root zone of each plant. This precise irrigation method significantly increases the efficiency of the irrigation application, with a substantial increase in crops yield.
Contact
Abu Dhabi Polymers Company Ltd. (Borouge)
Corniche Road
Abu Dhabi
United Arab Emirates
Phone:
+971 2 6070300
Fax:
+971 2 6070999
E-Mail:
info@borouge.com
Internet:
To website