Borouge pioneers a trend of using large diameter pipelines for industrial projects in the Middle East
Borouge, a leading provider of innovative and value creating plastics solutions, is breaking new ground in the infrastructure markets of the Middle East.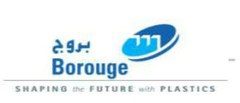 Pipe manufacturers, industrial design consultants and investors in new plants in the Middle East can now specify increasingly larger diameter polyolefins (PO) pipes for their industrial projects. The excellent chemical resistance and mechanical properties of polyethylene (PE) and polypropylene (PP) pipes make them ideal for a wide range of applications including cooling water transportation, sea water intakes and outfalls and sewage disposal.
Just over two years ago a major breakthrough was achieved when Borouge decided to install a total of 25km of 1600mm diameter PE100 pipes at its new expanded plant in Ruwais, Abu Dhabi. Bringing sea water to cool the plant, these PE pressure pipes are very tough, easy to install and extremely tolerant to any installation damage that can arise, unlike the glass fibre pipes used in previous industrial cooling water lines. The complete pipeline was welded ensuring leak free joints which are as strong as the pipe itself greatly enhancing the durability of the system. These cooling water pipes were produced and installed by Union Pipes Industry in Abu Dhabi who purchased a new pipe extrusion line and butt welding machine specifically for this project.
Many other large diameter PE pipe projects have followed for both utility and industrial applications, which have ultimately led to even larger diameter extruders being installed in the region. This means a rapid increase in demand for PE, which will be met by the recent capacity expansion at Borouge's plant in Abu Dhabi. Borouge has tripled the production capacity of its plant to 2 million tonnes of PO per year and is currently expanding its manufacturing capacity to 4.5 million tonnes per year by the end of 2013, creating the world's largest integrated polyolefins plant.
With the introduction of PP manufacturing capacity in its plant this year, Borouge is exploring enhanced solutions for the production of even larger diameter pipes. For the first time high stiffness PP High Modulus (HM) pipe grades (e.g. BorECO
™
BA212E) will be produced in the region. These materials can be extruded into a profile which can be wound around a mandrel and welded to adjacent windings to form a strong and stiff large diameter pipe. The machine producer, Bauku, based in Wiehl, Germany, has developed this technology for the manufacture of spiral wound pipes up to 3.5 metres in diameter, which have been used for industrial sea intakes and outfalls and large diameter sewage systems.
Union Pipes Industry has now purchased Bauku equipment which will enable them to manufacture three metre diameter PP spiral wound pipes for a large industrial project in the Middle East. This will be the first pipeline of its kind to be produced in the region and has been pioneered by Borouge in close cooperation with Union Pipes Industry, consultants and end users. Once again it is anticipated that many other projects will follow once the real benefits of these lightweight, corrosion resistant and durable pipelines are fully recognised.
Borealis AG
IZD Tower, Wagramerstr. 17-19
1220 Vienna
Austria
Tel.: +43 1 22 400 335
Fax: +43 1 22 400 333
e-mail:Erin.Kogan@borealisgroup.com
internet: http://www.borealisgroup.com