Borouge corrosion-free pipe solution aids water supply in Shanghai - No-dig technique saves 400 trees and minimises disruption to residents
Highly-durable PE100 water pipes from Borouge, a leading provider of innovative, value creating plastics solutions, have helped to supply safe, clean drinking water for residents of Pudong in Shanghai. The use of pipes produced with BorSafe® HE3490-LS is a long-lasting alternative to the previous high-maintenance leaking iron pipe network. According to the United Nations, water conservation is one of the most urgent global challenges facing society today.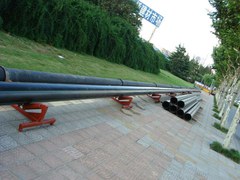 Although only in operation for 20 years, leakages continually occurred at the joints and across parts of the cast iron pipe network in the area of Pudong, resulting in repair and maintenance work having to be regularly carried out. The Shanghai Pudong water company faced a number of challenges when deciding to replace 2.6 km of the old network with a durable and cost-effective solution.
Maintaining the existing hydraulic capacity was vital in order to deliver the same high water flow. Also, ensuring minimal disruption to the community and environment was a key priority. Repairs on 36 different occasions over the last 4 years had caused significant traffic disturbance and supply interruption for local residents. Environmental considerations were also critical to the local water authority's decision, to upgrade the pipeline network.
Contractor Shanghai Pudong Water Supply & Drainage Construction Engineering Co. Ltd opted for "Swagelining" trenchless installation using BorSafe HE3490-LS based pipes to achieve the best possible all-round results. The technique, which involves the digging of small pits from which pipes are inserted into the network, ensures minimal traffic disruption, conserves the surrounding environment and maintains high pressure water distribution. By avoiding traditional open trenching to replace the damaged pipe, over 400 trees were saved.
BorSafe HE3490-LS helps to ensure a corrosion-free, long-lasting pipe system that is particularly suited for this installation technique. The material's combination of high impact resistance at both low and elevated temperatures, enhanced stress cracking resistance and ability to withstand high water pressure, delivers long-term, no-leakage performance. This durability and toughness helps to secure low maintenance and operational costs for the water authority, and also allows ease of handling during installation. Residents of Pudong are now benefiting from constant clean water supply, without the disruption of regular maintenance.
Pipe converter Shanghai Chinaust Plastics Corp, Ltd, a market leader in the gas and water pipe manufacturing industry, recommended BorSafe HE3490-LS for this project because of its ability to deliver higher performance more cost-effectively than other products. The choice of BorSafe was a natural one given the importance of quality in these projects and the high cost of replacement should the pipe fail.
Mr. Hou Shubin, Sales Manager, Shanghai Chinaust Plastics Corp. Ltd, adds: "From a processing perspective, BorSafe HE3490-LS provides important material savings while optimising the thickness that can be used. As a low sag material, it allows larger pipes with a constant thickness to be extruded. Its excellent melt strength adds to the ease of processing and consistent performance to the finished pipes."
BorSafe is the Borealis and Borouge brand for all PE pressure pipe grades, reflecting their commitment to develop sustainable solutions to global challenges such as providing access to clean water and adequate sanitation to millions of people around the world.
Contact information:
Borealis AG
Borealis Head Office
IZD Tower
Wagramerstraße 17–19
A-1220 Vienna
Austria
phone: +43 (0) 122 4000
fax: +43 (0) 122 400 333
eMail: info@borealisgroup.com
Web: http://www.borealisgroup.com