BorECO&#8482 PP pipes bring 21st Century to Middle Ages village
The inhabitants of Zimmern, a small municipality in Thüringen, Germany, can finally look forward to safe and reliable sewage removal with the installation of a complete high performance pipe system based on BorECO™ polypropylene (PP) from Borealis, a leading provider of chemical and innovative plastics solutions. Zimmern's current antiquated disposal method is being replaced by a modern, separate sewage pipeline with the possibility to be connected to a sewage treatment plant in the future. More than 4.5km of BorECO BA212E AWADUKT PP SN10 RAUSISTO high load pipes and AWASCHACHT PP DN 1000 inspection chambers from REHAU are being used for the project, which is due for completion by the end of 2010.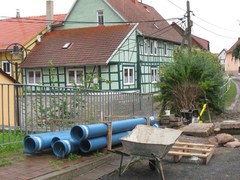 The Association for Sewage Treatment for Middle Unstrut and the planner, Engineering Office Oppermann, deemed REHAU's BorECO BA212E-based products the optimal solution for fulfilling the strict requirements of Drinking Water Protection Zone II standard DWA A 142. In Zimmern and other such Zone II locations, extreme diligence is required when commissioning a sewage project in order to avoid the potential endangerment of ground water.
BorECO BA212E is a high modulus PP designed primarily for pipes exposed to heavy wear and tear. The material, characterised by an excellent balance of stiffness and impact properties, allows the production of pipes of high durability, chemical resistance and abrasion resistance. Sewage pipes made of BorECO™ PP are especially suited for applications with demanding requirements and difficult topographical environments.
The BorECO™ PP pipe follows the soil movement or settlement thanks to its flexibility. The surrounding soil and the PP pipe establish a safe symbiosis which means that the BorECO™ PP pipe will not crack in case of static or dynamic loads and maintain its leak tightness.
"BorECO BA212E offers an ideal combination of stiffness and impact strength needed to respond to the demanding needs of a leaktight and heavily loaded sewage pipeline in a sensitive area" comments Martin Lackner, Application Marketing Manager in the Business Unit Pipe. "A BorECO PP sewerage system network fulfils the increasing demands of permanently functioning sewage pipe systems. For the 350 residents of Zimmern, this means a future of reliable, safe sewage disposal appropriate to today's requirements."
Contact:
Borealis AG
Wagramerstrasse 17-19
1220 Vienna, Austria
PH.: +43-1-22400-0
E-Mail: info@borealisgroup.com
Internet: www.borealisgroup.com