Borealis upgrades performance of polyethylene for gas pipes
Feb 22, 2011
Components and materials » Pipes » Plastics
Borealis, a leading provider of chemical and innovative plastics solutions, is extending its range of high performance, high density polyethylene pipes with the introduction of a new "PE 100" type grade for the gas market, BorSafe™ HE3492-LS-H.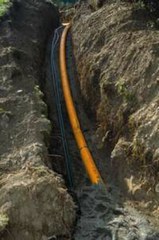 With the launch of this new BorSafe grade, Borealis completes its portfolio of "LS-H" grades that are identified by their very high resistance to slow crack growth. BorSafe HE3492-LS-H is available in the colour orange for gas distribution pipes in addition to the already well-established black and blue coloured grades (BorSafe HE3490-LS-H and HE3494-LS-H). The new grade can be extruded into a monolayer pipe or co-extruded with BorSafe HE3490-LS-H in two- and three-layer co-extruded pipes.
BorSafe HE3492-LS-H meets a growing need for safety in the gas sector, where pipe failures can have serious consequences. Furthermore, its high resistance to slow crack growth allows pipe installation companies to use the latest high-speed, lower-cost techniques such as sandless bedding and nodig installation without fear of the pipe being damaged during installation or in use. When laid in rocky or sandless bedding conditions, pipes can be subjected to external point loading, with high stresses building up.
"BorSafe HE3492-LS-H also offers installation companies high quality welds while its excellent processability enables extrusion companies to maximise line output," says Jane Toogood, Borealis Vice President for the Business Unit Pipe. "All the features of the new grade contribute to the reliability and longevity of gas pipes, delivering a sustainable solution to customers and consumers alike."
"In addition, studies have proven that polyethylene pipes compared to any other material provide highest resistance to earth movements," Jane Toogood continues. "Thus they deliver additional benefits and security especially when installed in earthquake regions."
All BorSafe LS-H grades are classified as PE100-RC materials according to the German PAS1075 standard, a prerequisite for use with such installation methods. BorSafe HE3492-LS-H has a higher resistance to slow crack growth than BorSafe HE3492-LS, which will no longer be produced.