Borealis to present innovative solutions at Plastics Pipes XIII conference
Borealis, provider of innovative value creating plastics solutions, will be present at the Plastics Pipes XIII conference taking place on October 2-5 in Washington D.C. Borealis will present six technical papers covering a wide range of pipe solutions.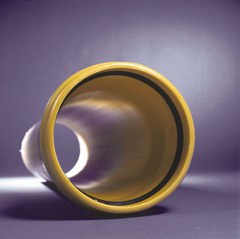 The Plastics Pipes XIII conference will stage more than 100 speakers from 20 different countries with presentations on topics covering water, gas, sewerage and building pipe systems. More than 500 representatives from 20 countries are expected to attend the tri-annual conference. Representatives of Borealis have been actively involved in the organisation of the conference over the last 20 years.
David Walton, Borealis Application Marketing Manager and vice chairman of the organising committee, comments: "Borealis" active involvement with the conference for many years underscores our belief that it contributes strongly to the technical knowledge base of the industry and serves to promote the greater use of plastics pipes. The conference provides an opportunity to drive innovation by offering a forum to meet end users, designers and manufacturers and discuss business developments."
The six technical papers to be presented and/ or co-authored by Borealis cover a wide range of plastics pipe applications with the emphasis on innovations answering needs throughout the value chain:
"Process and product improvements using a purpose designed injection moulding PE100 material" by James Mc Goldrick, Technical Service and Market development
"Promoting investment and quality in the local infrastructure in Italy" by Cino Serrao, Market Development and Public Affairs Manager Italy
"Development of a whole Llfe costing model for large diameter water mains" by David Walton, Application Marketing Manager
"Copolymerized Silane PEX – a new innovative material for PEX-b pipes" by Tom Venator, Sales Manager US
"PP-RCT: a new material class for plumbing and heating applications" by Reinhold Gard, Technical Service and Market Development
"Durability testing for 100 year lifetime for buried non-pressure plastic pipes" by Carl-Gustaf Ek, Application Marketing Manager, Harald Herbst, Engineering and Design Leader and Kristian Thörnblom and Gunnar Bergström from the Swedish National Testing and Research Institute
Borealis Pipe Business Unit specialises in supplying advanced polyolefin plastics for the manufacture of pipe and fittings systems. Borstar
®
, BorECO
™
, BorPEX
™
and Beta-PPR
™
technologies and solutions, are solving challenges around the world. Pioneering developments include stiff polypropylene (PP) grades for sewage and storm water pipes, and low sag polyethylene (PE) grades for large diameter PE pipes. In hot and cold water systems, the widest range of PEX and PPR materials provide plastics solutions for plumbing and heating. Borealis places great emphasis on delivering value to its customers through providing products and technologies that can help social progress, economic development and environmental protection.