Borealis leads the way with step-change Innovations in BorECO™ PP pipe grades
Borealis, a leading provider of innovative, value creating plastics solutions, is continuing its efforts to further increase the acceptance and expansion of polypropylene in the gravity pipe market with the launch of two new polypropylene grades: BorECO BA2000 and BorECO BA415E.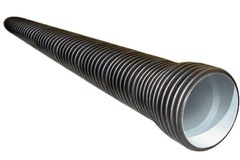 These two new BorECO grades further expand polypropylene's (PP) excellent track record as a high performance polyolefin for gravity pipe applications. Since its introduction more than 30 years ago and strongly enhanced by material innovations from Borealis, PP has continued to achieve remarkable growth rates and market share gains throughout Europe in underground drainage, sewage, and soil and waste water pipe systems.
BorECO™ BA2000 - the new class of material for solid wall pipes
Borealis continues its tradition of leading PP pipe material innovation by introducing BorECO™ BA2000. This pioneering high modulus (2000MPa) PP exceeds all requirements of the newly created S14 class in the revised EN1852 standard and provides further dimensioning options for non-pressure solid wall pipes. BorECO BA2000 allows pipe manufacturers to produce heavy duty pipes without mineral fillers and without additional investments in new production equipment, going beyond currently available stiffness whilst simultaneously maintaining excellent impact performance.
"There is no similar grade to match the excellent stiffness/impact balance of BorECO™ BA2000", comments Guido Kania, REHAU Senior Manager Research and Development. "BorECO BA2000's excellent resistance to corrosion, abrasion and chemicals provides pipes with long-term durability of at least 100 years –contributing to the protection of the environment through leakage prevention."
BorECO™ BA415E - significantly higher output and less energy consumption
Concurrent with BorECO BA2000, Borealis is also launching BorECO™ BA415E, an excellent new material for structured wall pipes and injection moulded parts. The outstanding processability of BorECO™ BA415E contributes to a significantly higher throughput and lower energy consumption during the extrusion process. The new PP grade also substantially improves the overall quality and the aesthetic appearance of the pipe. It allows for a more precise corrugated outer layer. When used as a pipe inner layer, the occurrence of sink marks and chips is eliminated and potential waviness on the inner surface is reduced significantly. This high quality inner surface improves the black water flow and eliminates the risk of water stagnation which is often the reason for the generation of bacteria and bad odour.
BorECO™ PP based gravity pipe systems have an excellent track record and ensure decades of trouble-free pipe operation for the network owner. BorECO™ PP materials contribute to sustainable waste water management by eliminating water losses and reduced material and energy consumption throughout production, transport and operation.
"With the launch of the two new grades, Borealis now can offer the most complete and competitive PP product mix available," comments Jane Toogood, Vice President Business Unit Pipe, Borealis. "Their development reflects our continued commitment, even in the current difficult economic times, to deliver new innovations that anticipate future market needs which ensure the right products are ready when required."
Contact:
Borealis AG
Kerstin Meckler Wagramerstrasse 17-19
1220 Vienna, Austria
PH.: +43-1-22400-389
E-Mail: kerstin.meckler@borealisgroup.com
Internet: www.borealisgroup.com