Borealis BorECO™ ensures smooth flow for REHAU® sewer project
Borealis, provider of plastics solutions, has recently supplied REHAU® with BorECO™ BA 212E, a highly developed polypropylene (PP) for pipe systems. As one of the most diversified plastics processors in the world REHAU was faced with the challenge of installing the new smooth-flowing sewerage system in the residential area of Traiskirchen, Austria, during the winter season and therefore benefited from the performance and easy handling of BorECO.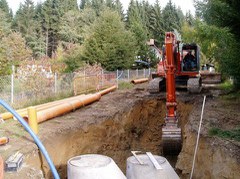 BorECO brings a wide range of benefits to the value chain, from pipe converters like REHAU to consumers. Its low weight, high stiffness, good impact resistance even at low temperatures and durability allow for the manufacture of pipes with time and cost-saving advantages, safe and easy handling and installation, long-life and environmentally-sound performance.
Guido Kania, REHAU Senior Manager Research and Development, comments: "The wintry weather during installation plus the cold conditions facing the pipes once underground meant that a heavy duty solid wall pipe with high ring stiffness and good cold climate performance had to be used. In combination with the community's demands for a sewer pipe system with good corrosion resistance and long-term performance, we felt that Borealis' BorECO was the ideal material to produce our AWADUKT PP sewer pipe system and to help us meet the necessary performance and lifetime criteria of this project."
The low weight of pipes made from BorECO PP compared to traditional concrete pipes allowed the construction company fast and cost-efficient pipe laying in the trench, even for big pipes with thick walls. Handling and transportation were also made easier. Smooth installation at the trench was achieved thanks to the high ring stiffness and jointing flexibility of the finished pipes. REHAU used a safety-lock push-fit system to ensure both quick installation and long-term performance.
BorECO's excellent corrosion, abrasion and chemical resistance can provide pipes with long-term durability of at least 100 years ensuring protection of the environment by preventing leaks.
Lorenzo Delorenzi, Borealis Vice President Pipe Business Unit, adds: "Borealis is committed to providing value added solutions not only to our customers but right down to the end-user. REHAU's Traiskirchen project is a great example of how BorECO PP's unique combination of performance and cost-saving benefits can be felt throughout the value chain."
Borealis has more than 40 years experience in providing advanced polyolefin solutions for the manufacturing of pipe and fittings systems. With understanding of the value chain and a focus on customer needs, Borealis continues to provide value creating innovative PP and (polyethylene) PE solutions for the pipe industry.
Further information:
Borealis AG
Borealis Head Office
IZD Tower
Wagramerstraße 17–19
1220 Vienna
Austria
Tel +43 (0) 122 4000
Fax +43 (0) 122 400 333
Web www.borealisgroup.com