Borealis and Borouge launch Water for the World
First global programme in plastics industry addressing water crisisLeverages companies' leadership to provide sustainable solutionsFosters local knowledge and partnerships throughout value chain to reach those in need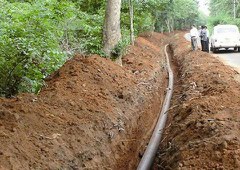 Borealis and Borouge, leading providers of innovative, value creating plastics solutions, have launched Water for the World™, the first global programme in the plastics industry that addresses the challenge of providing clean and safe water and sanitation to areas in need. More than 1 billion people around the world are without sustainable access to fresh water and over 2 billion lack basic sanitation.
Water for the World leverages the expertise that both companies have built in Europe, the Middle East and in Asia and fosters local knowledge and partnerships throughout the value chain to deliver sustainable solutions for the availability of safe water and sanitation.
This includes a broad range of value adding activities from supporting community projects led by Water and Sanitation for the Urban Poor (WSUP) to engaging stakeholders in professional training, education and promotion of best practices as with the Gulf Plastics Pipe Academy initiated by Borouge in Abu Dhabi.
In preparation for the launch of the programme, in August 2007, Borealis and Borouge became co-founders of the prestigious Stockholm Water Prize, to reward outstanding water related activities. They also piloted the development of the Global Water Tool, which was introduced by the World Business Council for Sustainable Development (WBCSD) as part of its water project, which Borealis co-chairs.
"Water and sanitation are the most vital of the challenges facing our world," states Borealis Chief Executive John Taylor. "We are proud to launch Water for the World, a pioneering effort in our industry to make a difference by addressing these challenges."
"Water for the World not only builds upon our market leadership, it goes beyond business," adds Borouge Pte CEO Harald Hammer. "From food protection to water pipe and sanitation systems, we can deliver sustainable solutions to those who need it most."
"Climate change and population growth are contributing to a major water crisis," comments Anders Berntell, Executive Director of the Stockholm International Water Institute. "The issue is not to find more water; it is to preserve and better manage it, in rich and poor countries alike. Borealis and Borouge's commitment will contribute to making a difference in areas where it matters."


Contact information:
Borealis AG
Sylvain Lhôte
Water for the World Programme Manager
Wagramerstrasse 17-19
1220 Vienna
Austria
phone: +32 (0) 15 47 90 58
fax: +43 (0) 1 22 400-333
eMail: sylvain.lhote@@borealisgroup.com
Web: http://www.borealisgroup.com