Borealis and Borouge introduce family of tailored irrigation solutions – Borstar® Aquility™
Borealis and Borouge, leading providers of chemical and innovative plastics solutions, have unveiled Borstar® Aquility™. Borstar Aquility comprises a new family of products intended for drip irrigation applications.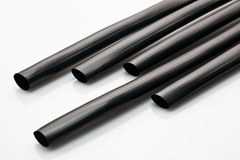 Its introduction underlines the important role of modern irrigation systems in conserving water and increasing crop yields – two crucial factors in addressing the global challenges of water shortage and rising food demand.
Initiated with the launch of pigmented Borstar Aquility HE3408 and un-pigmented Borstar Aquility ME3407 for thin wall pipe and tape production, the new family reflects Borealis and Borouge's commitment to support the pipe industry with efficiency-focused material solutions that can make a positive contribution to these challenges.
Both of the new tailored polyethylene (PE) materials optimise productivity and rationalise costs for producers in the creation of water-saving, thin wall drip irrigation pipes and tapes. Borstar Aquility HE3408 and Borstar Aquility ME3407 are available now via Borealis' sales channels.
Borstar Aquility grades HE3408, a pigmented one-pack solution and ME3407, an un-pigmented single polymer solution ready for use with colour master batch, are solutions that eliminate the expensive step of blending multiple grades. The lack of a blending step avoids the risk of quality variations in the extruded pipe. In addition, it helps to reduce material handling during the production process and simplifies inventory management for pipe producers.
The consistent, high melt strength and performance characteristics give producers the potential to achieve the high line speeds and thin walls requested by the market for thin wall pipes and tapes. In addition, the materials' easy weldability complements commonly used in-line dripper insertion technologies and is compatible with high speed production operations. The productivity-boosting capabilities of the materials are further enhanced through Borealis' unique Borstar process and catalyst technology.
"The introduction of tailored Borstar Aquility solutions brings a new level of performance to this agricultural market sector," comments Hugo Hammar, Borealis Application Marketing Manager Business Unit Pipe. "Pipe producers benefit from the production ease and efficiency as well as the added value of offering irrigation solutions that can ultimately make a positive contribution to the global food and water crisis."
Water and food production are closely linked with up to 90% of available water resources used in crop production. Increasing urbanisation and population growth mean that more of the available water is needed to irrigate additional crops, making it a global challenge to prevent water scarcity and maintain access to drinking water.
"Borealis has a strong track record for many years in addressing the global water challenges through development of efficient pipe material innovations and our Water for the World™ programme," comments Jane Toogood, Borealis Vice President Business Unit Pipe. "This new family of tailored products for the irrigation market is an additional effective solution in the area of water management in production of food and a fresh demonstration of our commitment to sustainable market solutions."
Water for the World was initiated by Borealis and Borouge in 2007 to foster knowledge, build partnerships and deliver sustainable solutions to address the global water challenge. The programme spans a full range of activities at global and regional levels, in science, industry and for local communities. Its primary focus is on: improving access to water and sanitation through local projects; preserving water resources through sustainable water management practices; and advancing best practices and raising awareness in communities and across the value chain.