Borcoat™ protection benefits secure Nord Stream gas pipeline integrity
Borealis, a leading provider of chemical and innovative plastics solutions, is extending the high-level protection benefits of its Borcoat™ steel pipe coatings to Europe's longest offshore natural gas steel pipeline, Nord Stream. The advanced performance offered by Borcoat will contribute towards securing the integrity of the pipeline over its minimum 50 year service life.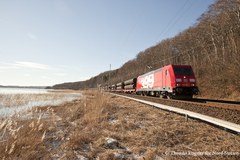 Nord Stream is a two-phase, two-string, parallel steel pipeline project routed under the Baltic Sea, designed to transport natural gas from the Russian city of Vyborg to the European exit point in Lubmin, near Greifswald, Germany; a distance of 1,224 kilometres (km). Each pipe string requires approximately 100,000 12-metre long pipe sections. The first pipe string commenced transportation of supplies in November 2011. A maximum volume of 55 billion m³ of natural gas could be carried per year once the second string is commissioned in the fourth quarter of 2012.
This complex project presented consortium Nord Stream AG with significant challenges in pipe design and performance. To meet the tough performance criteria, Nord Stream AG selected a three layer high density polyethylene (HDPE) system with increased fusion bonded epoxy (FBE) primer thickness. The Borcoat bimodal high density polyethylene (HDPE) system fully met these expectations, based upon the material's long successful track record in similar applications and harsh service conditions. Borealis was involved from an early development stage to undertake the analysis of pipe coating needs and to identify possible solutions.
In addition to providing the mechanical strength necessary for pressurisation to 220 bar and to resist external pressures at depths down to 110 metres, pipe protection with lowest environmental impact and resistance to submarine conditions were key requirements. Submarine maintenance during the pipeline's targeted service life was to be kept to a minimum.
On land, resistance to damage during the extensive number of loading and unloading movements and transportation between manufacturing and coating sites in Russia and Germany to the concrete weight coating plant in Finland and Northern Germany, and finally the installation barge, was a top priority. Rail transportation distances of up to 1,500 km during the Russian winter added a further element of risk into the coating specification.
The Borcoat system not only delivered the necessary sustained mechanical protection at temperatures as low as -45 °C, it also offered outstanding processing characteristics allowing high coating output.
The system comprised a first base layer of fusion bonded epoxy (FBE) coating, then a layer of Borcoat™ ME0420, a maleic anhydride grafted polyethylene adhesive giving a strong bond to the FBE, followed by Borcoat™ HE3450, a black bimodal HDPE. This latter material providing optimal mechanical protection across the variety of logistical challenges involved in the handling of very heavy pipes, as well as high environmental stress cracking resistance (ESCR) and excellent resistance to chemicals and seawater. The coater also added a 'rough coat' of Borealis' RM7405, a black PE ground material grade. Applied to the topcoat while still hot, this rough surface enabled a stronger bond to the 60-110mm concrete coating given to increase the weight of each pipe to around 24 tonnes and ensuring its stability when laid on the seabed and extra protection against damage from anchor and fishing activity in shallow-water areas.
Surveys conducted during and after completion of the first phase confirmed the positive feedback from the pipe coaters Vyksa Steel Works and Mülheim Pipe Coatings (MPC) on the easy processability and high output of Borcoat as well as the integrity of the protection delivered. This was exemplified by a report that out of the first 25,000 pipes received at the Kotka concrete coating facility in Finland, only 13 exhibited some coating damage and these were repairable on-site.
"Selecting the right coating to protect the steel pipes from potentially harsh transhipment and in-situ submarine conditions as well as meeting the criteria for extended lifetime performance and neutral environmental impact presented a significant challenge," comments Klaus Schmidt, Manager Coatings and Logistics for Nord Stream. "The Borealis Borcoat system offered the Nord Stream required properties of longevity and durability sought for a 50-year operating life and is well-known for similarly protected installations in harsh service environments."
"Nord Stream will play a crucial role in helping to meet the European Union's growing energy demands and future reliance on imported supplies," concludes Jane Toogood, Borealis Vice President Business Unit Pipe. "Borealis' early involvement and the ultimate choice of a Borcoat system for this important project highlights the value the industry places on our expertise and material innovations in meeting the challenges of highly complex infrastructure projects."