Big-Boy arrives in South Africa
Trenchless Technologies CC, based in Johannesburg, was founded in 1991 and has been the TERRA distributor in Southern Africa since 1993. They undertake several kilometres of pipe and cable laying using HDD as well as some 30 kilometres of trenchless rehabilitation works annually.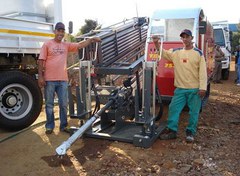 Rehabilitation processes include sliplining and pipebursting, and in partnership with Tuboseal cc undertake RibLoc Expanda and Ribline technologies, as well as CIPP by ambient and UV cure up to ø 900mm.
Trenchless received the SASTT award of excellence for 2007 for the
Klipspruit Basin Sewer Upgrades
contract along with Johannesburg Water and Vela VKE Consulting Engineers, which utilized CIPP, pipe bursting and HDD.
For many years they have been operating a TERRA-JET 1712 B. This HDD machine was produced in 1994 and in spite of its old age is still in daily operation; it has now received a big brother.
Sam Efrat and Sagee Moodley owners of Trenchless Technologies took delivery of the TERRA-JET 7520 D which was nicknamed "Big-Boy" when it was commissioned recently by Dietmar Jenne, CEO and owner of TERRA.
The TERRA-JET 7520 D can undertake bores of up to 400 m length which can be backreamed up to ø 800 mm. Additionally it is equipped with rock drilling tools, which will allow guided rock drilling in South Africa from now on.
Sam Efrat states: "The moment I became aware that TERRA were producing "Big-Boy" I wanted one. It is an impressive piece of precision engineering with many innovative and unique processes. It is powerful, yet compact and easily operated.  It will enable us to offer our clients longer bores and larger pipe diameters, even in hard ground. We look forward to some interesting and challenging projects".
For further information please contact:
TERRA AG
Industriestrasse 1
4805 Brittnau
Switzerland
Phone: 062-751 24 52
Fax 062-62-751 40 46
E-mail: terra.ch@bluewin.ch
Internet: www.terra-eu.eu