Bay Tunnel named Public Works Project of the Year
A 5-mile-long tunnel constructed under the San Francisco Bay has been named the 2015 Public Works Project of the Year.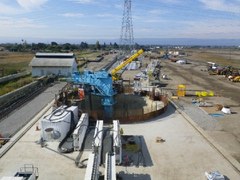 Michels Corporation is proud to share the recognition of its work on the San Francisco Bay Division Pipeline Reliability & Tunnel Project with its project partners and the San Francisco Public Utilities Commission.
The American Public Works Association will formally present the national award during its International Public Works Congress & Exposition Awards Ceremony in Phoenix Aug. 31.
Michels was part of a joint venture that built the 15-foot diameter tunnel, the first one ever excavated by tunnel boring machine under San Francisco Bay. The alignment is located between two vertical shafts and down to 110 feet below the surface of the San Francisco Bay and neighboring marshlands.
The tunnel provides San Francisco Bay area residents with a reliable source of drinking water. Located in an environmentally and seismically sensitive area between the San Andreas and Hayward faults, the tunnel is designed to remain operable following a major seismic event in the San Francisco Bay area.
Michels Tunneling Vice President Jim Stevens spearheaded the massive tunnel project, which was completed under budget and eight months ahead of schedule.
The Bay Tunnel is largest part of the Hetch Hetchy Water System Improvement Program that spans seven counties and included 83 projects.
Contact
Michels Corporation, Corporate Communications Specialist
Jill Badzinski
817 West Main Street
WI 53006-0128 Brownsville
United States
Phone:
+1 920-583-1463
E-Mail:
jbadzins@michels.us
Internet:
To website