bauma China 2010 exceeded all expectations
bauma China 2010, the 5th International Trade Fair for Construction Machinery, Building Material Machines, Construction Vehicles and Equipment, has again broken all records with regard to exhibition space, exhibitor numbers and visitor numbers. Once more, bauma China has further consolidated its position as the leading trade show for the Chinese and Asian construction industry.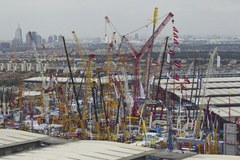 More than 150,000 visitors from 165 countries attended this year's bauma China (2008: 112,674 visitors from 124 countries). This represents an increase of 33 per cent compared to the last edition. After China, the top ten countries and regions of origin among the visitors were Korea, India, Japan, Russia, Malaysia, Brazil, Singapore, Thailand, Indonesia and Australia – in that order. 
"The enormous growth in visitor numbers as well as the outstanding positive feedback from our exhibitors is impressive evidence that bauma China is the leading business platform for the construction industry in China and Asia," explained Eugen Egetenmeir, Managing Director of Messe München. And Zhou Weidong, Vice Chairman of the China Council for the Promotion of International Trade - Machinery Sub-Council (CCPIT-MSC) summed up: "With the rapid development of China's construction machinery market, bauma China breaks all records again. Due to the incredibly huge visitor flow, we are sure that both exhibitors and visitors have achieved their expected goal. bauma China was a complete success." 
Covering 230,000 square meters of exhibition space, bauma China 2010 was ten per cent bigger in area than in 2008, when the show took up 210,000 square meters. All in all, 1,858 exhibitors from 37 countries (2008: 1,608 exhibitors from 30 countries) took part in bauma China 2010. This means not only an increase of 15 per cent in exhibitor numbers but also a broader international spread. "bauma China is not only the most important platform for our globalization drive, it is also the most efficient access to the latest industrial information. We do not see bauma China only as a marketplace, but also as a channel for meeting existing customers and new contacts from India, South Asia, South America and Africa," said Kenny He, Vice President of Zoomlion. 
Of the total of 1,858 exhibitors, China accounted for the highest proportion with 1,124 exhibitors. 734 exhibitors came from outside China to present their latest products and innovations at bauma China. The strongest contingents of overseas exhibitors were from Germany (154), Italy (107) and the US (92). "This year's bauma China show has exceeded all expectations. Attendance at the show, an important exhibition in the international calendar, is a must for all engine manufacturers and OEMs who are committed to being successful in the Chinese construction industry," said Gwenne Henricks, President at Perkins Engines Company Ltd. 
A further highlight at bauma China were the national pavilions from Austria, Finland, Germany, Great Britain, Italy, Korea, Spain and the US, all showcasing state-of-the-art technology produced in these countries and informing on research and development trends. 
The next bauma China takes place from 27 to 30 November 2012. Further information on bauma China 2010 can be found at www.bauma-china.com
Press contact:
Claudia Stadler, Senior Manager Communications bauma China
Marketing & Communication, Capital Goods
Tel.: +49 89 / 9 49-20245, Fax: +49 89 / 9 49-20249
e-mail: claudia.stadler@messe-muenchen.de