bauma China 2008 in Shanghai
The next bauma China will be held at the Shanghai New International Expo Center (SNIEC) from 25 to 28 November 2008.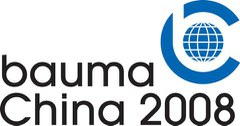 bauma China in Shanghai from 25 to 28 November 2008 is going to have 20 percent more exhibition area. This increase is based on the continually growing demand for construction and construction material machines as well as construction vehicles and equipment in a market with two-figure growth rates. Asia's real gross domestic product (GDP) tripled from 1980 to 2006. According to forecasts of the IMF, the GDP of the People's Republic of China will again surpass last year's GDP values by 11 percent in the current year.
Experts believe that this development will result in the PR of China surpassing Germany as the third largest economy by the end of 2007. An important growth engine for this is the construction industry in all of its aspects. According to figures from the "National Bureau of Statistics of China" (NBS), construction projects were carried out valuing 410.2 billion euros last year. This corresponds to an increase in area of 18.6 percent compared to 2005. Approximately 20,000 kilometers of newly built highways within the past year are just one typical example of this. In spite of consistent meas-ures to cool down the economy, China's construction industry will probably expand by more than 20 percent over the next two years. Consequently, bauma China 2008, which will take place in the Shanghai New International Expo Center (SNIEC) from 25 to 28 November 2008, can again expect a great deal of participation by the Chi-nese and the overall Asian construction industry.
India also has high growth rates
The construction industry in India already created ideal prerequisites for the future with a GDP share of 6.7 percent in the financial year of 2005/06. Approximately 330 billion US dollars are to be invested in contraction measures at focal points by 2015. The emphasis is mainly on road, airport and harbor construction, but also on projects for improving the supply of electricity and drinking water as well as construction of residences.
According to estimates by the "Confederation of Indian Industries", the construction industry will grow by an average of at least 10 percent over the next five years. The greatest investments by far will be made in road construction. Approximately 10,000 kilometers of two-lane roads and 20,000 kilometers of four-lane highways are on the shopping list of the Indian government as "Build-Operate-Transfer-Projects".
Positive development tendencies in the Tiger countries
The economic development of the "Four Tigers" in Asia is proceeding differently. Singapore, which competes directly with Hong Kong as a finance and trade center, again has substantial GNP growth of more than six percent following the SAR crisis of 2003. The service sector remains the most important economic sector with a share of 67 percent of the GDP. In the construction sector, the government is investing mainly in expanding the airport and the subway network as well as in construction of a new large stadium.
Hong Kong expects a reversal of the trend in the construction sector in 2008 and consequently in time before the beginning of bauma China in November. Foreign companies, especially those involved in special civil engineering areas, can expect to have improved chances.
In Taiwan, larger investments are planned for local transport on rails, road construc-tion and sewage systems by 2008. In addition, large projects such as an interna-tional container terminal, various plant expansions and new petrochemical facilities are on the investment agenda.
The Republic of Korea also expects increased construction investments for 2007. Foreign suppliers with system solutions in the areas of crane and supply technology for concrete as well as fastening technology will be in demand in the future there.
Government infrastructure projects stimulate demand perceptibly In addition to the "Four Tigers", there are other countries in the meantime, which are also experiencing strong economic development. In Indonesia, the construction industry grew by about seven to eight percent last year according to cautious estimates; two-figure growth is expected for this year. The highest increase rates are expected above all for construction of residences and infrastructure projects.
According to the Federal German Agency for Foreign Trade (bfai), all hopes are on the 9th Malaysia Plan in Malaysia, which contains numerous projects for the construction industry. Civil engineering companies will above all participate in a number of new infrastructure projects. But increased investments are also expected for the oil and gas industries as well as for public utilities. Similar to Malaysia, a number of government projects are planned for the construction sector in the Philippines from 2006 to 2010. A total of approximately 1.7 billion Philippine pesos will be invested in expansion and creation of infrastructure. Stimulation of the mining industry is also expected, which will result in numerous orders for the construction industry. A substantial increase in the construction machine sector is forecast for Thailand over the coming years. The expansion of the skytrain and subway network as well as comprehensive road construction measures and planned new power plants will result in perceptible increases in demand. Mobile concrete mixing systems, asphalt cutters and cranes are at the top of the procurement lists.
The demand for construction and construction material machines as well as for construction vehicles and equipment continues to boom in the Asian market, especially in mainland China. This is also being reflected in the development of bauma China. Between the two trade fairs 2004 and 2006 alone, MMI (Messe München International) was able list approximately 47 percent more exhibitors and record a visitor growth record of 60 percent at the same time. The 34th International Trade Fair for Construction and Construction Material Machines, Construction Vehicles and Construction Equipment will take place at the Shanghai New International Expo Center (SNIEC) in China from 25 to 30 November 2008.
Contact:
Messe München GmbH
Henrike Burmeister, Communications Manager
Tel. (+49 89) 949 20 245
Fax (+49 89) 949-20249
Email: Henrike.Burmeister@messe-muenchen.de
Internet: www.bauma-china.com