bauma China 2006: Biggest construction trade fair in Asia
More than 900 companies signed up to exhibit in Shanghai - 140,000 square meters of exhibition space booked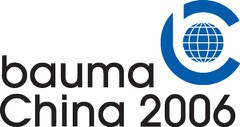 bauma China 2006, the third international trade fair for building and building materials machines, construction vehicles and building equipment will be held at the Shanghai New International Expo Center in China, 21 to 24 November, 2006. 738 exhibitors presented their products at the fair in 2004 to 50,000 visitors. More than 900 exhibitors have already applied for bauma China 2006, which means 22% more than at the last edition.
When it celebrated its premiere, bauma China immediately established itself as the industry's most important and most successful trade fair in the Chinese market. Meanwhile, bauma China has developed to the number one trade fair for the construction industry all over Asia.
This year it will occupy 140,000 square meters, 40,000 square meters larger as the last bauma China. Therefore, bauma China underlines its leading position as the perfect meeting place and marketing platform for all key players of the construction sector in Asia.
About bauma China
bauma China is the most successful and most important trade fair for the building and building material industry in the Chinese market with 50,000 trade fair visitors from all regions of China and all continents in the last event. In 2004, a total of 738 exhibitors presented the complete range of construction and building material machines on an area of 100,000 sqm at one of the most modern trade fair centers in Asia, the Shanghai New International Expo Center (SNIEC). In 2006 bauma China will cover approximately 140,000 sqm exhibition space. 
Contact
Henrike Burmeister, Communication Manager
Messe München GmbH
Tel. (+49 89) 949-20 245, Fax (+49 89) 949-20249
Henrike.Burmeister@messe-muenchen.de
http://www.bauma-china.com