bauma 2007: Professional Showing of the Mining Machinery Industry
Following 2004, the mining machinery industry is again going to present a comprehensive overview of machines and systems. Approx. one-fifth of the almost 3,000 exhibitors from throughout the work will round the comprehensive offer with their mining equipment at bauma 2007 in Munich from 23 to 29 April.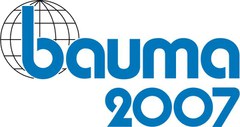 Many of the companies active worldwide play an important role both in the construction industry, mainly in tunnel and road construction, and in mining. Excavators, dump trucks, conveyor belts, tunnel drilling machines, self-propelling rotary cutters and various attachments are often used unchanged or only slightly modified for both application areas. The mining sector will also show the complete product range of the mining industry for various methods in open-pit and underground mining. This includes shearers, roller and miller loaders, continuous miners and traditional selective cut heading machines as well as numerous other large machines, power units, hydraulically controlled systems and a comprehensive range of other equipment.
High demands on functions and performance under extreme conditions
Modern electronic monitoring and computer-supported control units, high advancing power and the fast adaptation to different geologic conditions characterize the development in selective cut heading machines and continuous miners. The latter excavate material from the complete gallery width, but can also cut and load at the same time and are also equipped with armature facilities in some models.
Not all machines work independently such as surface miners or bucket wheel excavators in open-pit mining. Integration in existing or planned processes is often required in underground mining. These can be conveyors, excavation, feeding or automation systems, among others. According to a well known manufacturer, the integration of a rolling loader, for example, in a face system requires a lot of effort to align the controls, data transfer and other parameters precisely.
Special solution for open-pit mining
Parallel to conventional mining of minerals such as limestone, bauxite, hard brown coal, mineral coal, phosphate, salt and other solid sedimentary rock, manufacturers of surface miners were able to conquer a sold market share over the past years, which will be seen at bauma 2007. Drilling and blasting are just as unneeded as crushing processing in use of these machines. Depending on the size and material, nominal digging capacity of more than 4,000 tons of conveyor-capable materials per hour are possible. In addition to known models from road construction with rotary grinders positioned in the middle, there are also machines with front or rear rotary grinders. Selective mining is possible with surface miners especially with thin seams, and mixing with impurities can be avoided.
The extreme field conditions "regardless of whether in underground or open-pit mining" continually present manufacturers with new challenges. Heat, dust, EMC smog, water, strong vibrations and corrosion require special design efforts. This is a topic, about which construction machine manufacturers are also very aware.
Positive forecast for national and international manufacturers
German mining machinery manufacturers have long since become globally active partners of the worldwide mining industry and can point to continually increasing sales. According to VDMA, the production of German mining and processing technology has increased by 38% since 2002. The export business is mainly responsible for this positive trend, where German technology faces strong competition with international suppliers.
The outlook for the coming years is equally good to excellent for national and international manufacturers. The increasing worldwide requirements for energy and raw materials is continuing to drive up prices and consequently the profits of mine operators. As a result, there is sufficient capital for capacity expansions and renewing existing technology, which will be show at bauma 2007 in Munich from 23 to 29 April. Not only China, the second most important export country of manufacturers following Russia, is reporting increasing energy needs, but also countries with large populations such as India, Indonesia and Vietnam. This is development, which promises good perspectives for the mining machinery industry in the coming years. Exhibitors are looking forward to contact with mine operators from throughout the world thanks to the substantial internationalism of bauma.
About bauma
The world's biggest international trade fair for machinery for the building and construction, building-materials and mining industries takes place at the New Munich Trade Fair Centre from 23 to 29 April 2007. This event, organised by Messe München GmbH, will take up over 500,000 m
2
of indoor and outdoor exhibition space. The last bauma in 2004 attracted 2,801 exhibitors from 47 countries, all making full use of the fair as a platform for communication, product presentation and marketing. 50% of the exhibitors were from countries outside Germany. 416,000 trade visitors came to bauma in Munich in 2004, 29% of them from abroad. The number of global brands among the exhibiting companies is evidence of bauma´s central significance as an international forum for the sector. 93% of the exhibitors at bauma 2004 reported contacts with international trade visitors at their stand.
Contact:
Messe München GmbH
Messegelände
81823 München
Germany
Tel:(+49 89) 9 49 1 13 48
Fax:(+49 89) 9 49 1 13 49
Email: newsline@messe-muenchen.de
Internet: www.bauma.de

Press contact:
Henrike Burmeister
Manager Communications
Tel: (+49 89) 949 20245
Fax: (+49 89) 949 20249
Email: henrike.burmeister@messe-muenchen.de