BASF Business Water Solutions Invites Customers to Engage in Dialog at the World's Leading Trade Fair IFAT ENTSORGA
Around 2.730 exhibitors will be showing their latest portfolios at IFAT ENTSORGA, the world's trade fair for water, sewage, waste and raw material management, at Munich, Germany, from 7 to 11 May 2012. As a strong partner of the water treatment industry BASF will be presenting its innovative and sustainable water treatment solutions on their booth under the theme "water loves solutions" (Booth No. 223/332 in Hall A3).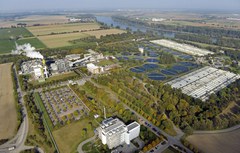 "Thanks to our global expertise in the field of water treatment, we offer customers local presence and a comprehensive product portfolio. We innovate to make our customers more successful – and we can demonstrate that well at the IFAT." said Dr. Matthias Halusa, Head of BASF's Global Business Management Water Solutions. "Europe is a very important market for us. We will use the trade fair extensively as a forum for dialog and like to invite all customers to use IFAT as an opportunity to engage in intensive discussion with our international team of experts."
Tailored system solutions for our customers
At the BASF booth a large selection of innovative and sustainable system solutions for the wide range of uses awaits the trade visitor. BASF's extensive range of established products, such as flocculants, coagulants, corrosion inhibitors, antiscalants, biocides, chelating agents and defoamers, provides tailor-made solutions for the treatment of waste water, drinking water and industrial water. This year's main focus at IFAT will be ultrafiltration technology, a field of activity that BASF is strengthening since the acquisition of inge GmbH in 2011.
Focus on ultrafiltration solutions from inge GmbH
The German company inge GmbH – widely regarded as the global leader in the field of ultrafiltration technology – hundred percent owned by BASF and part of its Water Solutions business – features the highly-efficient and robust ultrafiltration membranes as well as the space-saving rack designs used to treat drinking water, process water, waste water and sea water. The extremely small-pore filters of the Multibore® membrane reliably intercept not only particles, but also microorganisms such as bacteria and viruses, thereby providing a dependable source of clean water.
Daniela Drössler
Flurstraße 27
86926 Greifenberg
Tel.: +49 (0) 8192 / 997 718
Fax: +49 (0) 8192 / 997 999
ddroessler@inge.ag
www.inge.ag
Contact
BASF SE Water Solutions
Christine Sickinger
Carl-Bosch-Str. 38
67056 Ludwigshafen
Germany
Phone:
+49 (0) 621 / 60 58865
Fax:
+49 (0) 621 / 60 6658865
E-Mail:
christine.sickinger@basf.com
Internet:
To website