Award winning new sewer sealing gel development
In support of Wessex Water's Sustainable Sewer Renovation Programme, De Neef UK and Sdi-unistride (in association with Wessex Engineering & Construction Services [WECS]) have announced the latest generation of pipe joint injection sealing gels, SewerSeal JF.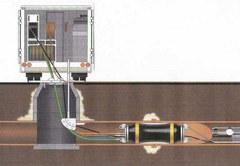 For many years Wessex Water, through its contracting services division, WECS, has been addressing sewer infiltration, and the problems associated with it, using resin injection joint sealing techniques, initially with Acrylamide resins and more recently with Acrylate products. WECS has, for the majority of this work, utilised the services of specialist utility contractor Sdi-unistride Ltd.
Whilst the Acrylate product has been successfully used on numerous sewer renovation projects where infiltration of ground water has been the major symptom, there has always been a suspicion of a potential problem. In certain circumstances, if ground water levels fall, the drying of the Acrylate product may have the potential to cause failure if it is allowed to dry significantly, because there is the potential for it to shrink and become less 'flexible'. This can lead to failure of the seal and new infiltration occurring when flow levels and ground water return.
With some £7 million budgeted over the AMP 4 period for this type of sealing work, under its 'Loss of Service' project, WECS, working within Wessex Water's philosophy of organising its activities and operations in the most sustainable way possible, decided to investigate the potential for a new sealing gel that would overcome this potential failure situation by offering a sealing product that would not dry out or fail in such circumstances.
With historical data showing that, on any particular sewer pipeline, up to 30% of the joints tested failed a standard air pressure test, it was a decision that was not undertaken lightly.
Gel development
In March 2006, working with De Neef UK, WECS and Sdi-unistride undertook a new product development programme which ultimately led to the new product known as SewerSeal JF. Whilst the precise chemical make-up of the new product is commercially sensitive information, essentially it utilises a rubberised acrylate-based chemical to replace a certain amount of the water used in the sealing gel. This dramatically reduces the potential for shrinkage under dryer operating conditions and also keeps the seal flexible, effectively removing the potential of glassification and failure.
SewerSeal JF has undergone both laboratory based testing in Belgian, to provide interim, medium and long term performance data, as well as arduous field testing programmes to prove that the SewerSeal JF product is fit for purpose. Details of the test results are available from the manufacturer, but show that SewerSeal JF can be expected to dramatically improve the longevity of a renovated joint when compared with conventional acrylate systems whilst maintaining a cost effective and environmentally friendly solution.
Approval
Wessex Water's Technical Standards Committee recently approved the new SewerSeal JF product for use on projects in its area and the product has now replaced the original acrylate resin as the material of choice with WECSL.
The new SewerSeal JF product was recently successfully utilised on its first commercial project in the UK, on sewer renovation works at Montacute House, near Yeovil in Somerset. Further to this, the product has also been successfully applied on work for South West Water in the village of Bowjeyan, near St Just in Cornwall, on a pipel i ne with heavy infiltration which has previously been difficult to renovate or repair by any other means. Both projects were undertaken by Sdi-unistride.
SewerSeal JF is expected to provide a system that will enable over 500 m/ week of sealing work to be completed under normal operating circumstances and at a cost that is only marginally higher than that using the current sealing resins.
The SewerSeal JF gel also complies with all current European Health & Safety regulations and requirements. The material has also recently passed the European Standard for ecotoxicity (DIN 38412 L30), which is a test carried on Daphnia Magna to demonstrate that ground water extracted from an injected area with unreacted resin was shown not to be ecotoxic. The material has also passed the European Standard (OECD 301A) which demonstrates that any unreacted resin was completely biodegraded in the environment after 7 days.
Whilst still being very new to the market, the development team for the SewerSeal JF product is also very pleased to announce that, at the recent International No-Dig 2007 event in Rome, the SewerSeal JF product was announced as the winner of the prestigious ISTT Award 2007 – Best New Product/Technique introduced to the industry over the past year. Websites: Sdi-unistride -
www.sdi-unistride.co.uk
; De Neef UK -
www.deneef.co.uk
; Wessex Engineering and Construction Services –
www.wessexwater.co.uk
.