Award-winning "Green" Pipe Rehabilitation Technology Introduced for Much Needed Eco-friendly Infrastructure Repair Solutions
Advanced geopolymer lining system introduced by IPR provides structural rehab solution for large diameter culverts and other infrastructure.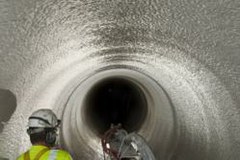 GeoTree Technologies, Inc., a high tech infrastructure repair materials company announced that it has formed strategic partnership with IPR, the nation's leading trenchless contractor, to introduce IPR EcoCastTM , the first advanced geopolymer liner system to address the increasing demand for eco-friendly trenchless infrastructure rehabilitation products.
"As a full service pipe rehabilitation contractor, we are always looking for better, faster and safer rehabilitation technologies," stated Mike Vellano, Vice President of Sales and Marketing for IPR. "We consider EcoCast a breakthrough in the area of trenchless rehabilitation solutions; in that it is eco-friendly, fast and efficient structural repair, but without the typical green premium."
As the nation continues to struggle from the recent recession, the new jobs plan is calling for major upgrades to roads, schools, bridges, and the distressed water and sewer systems. Coupled with the government's push for more "green" initiatives, the outlook for infrastructure rehabilitation has never been better.
"Sustainability is much more than making eco-friendly products" stated Amir Hoda, President and CEO of GeoTree Technologies, Inc. "Recycling waste materials and lowering green house gas emissions is a must. With the products made in the USA, sustainability for us means eco-friendly products that create construction jobs, manufacturing jobs and green jobs and delivering a cost effective solution."
This partnership is a great example of this scenario. Since launching its EcoCast system, has been steadily adding to its workforce for EcoCast projects recently awarded in Atlanta and Houston. In addition, manufacturing jobs are created to make the products. With offices strategically located throughout the United States, IPR is the nation's largest full-service provider of trenchless underground solutions; including CIPP, pipe bursting, slip lining, construction management, TV and inspection services.
GeoSpray, developed by GeoTree Technologies and the primary material used in the EcoCast system, is a 2011 Finalist in the CleanTech Open, the largest clean technology startup business competition in the world. The CleanTech Open has established itself as a leader in developing clean technology startup companies dedicated to developing technologies that address urgent energy, environmental and economic challenges.
Contact
Inland Pipe Rehabilitation (IPR)
Mike Vellano
9400 Grogan's Mill Rd.
77380 The Woodlands, TX
United States
Phone:
(+1) 281-727-8734
Internet:
To website