Austrian Know-How for Hydropower Complex in Chile
Two Austrian companies are currently involved in the construction of the hydropower complex Alto Maipo in Chile. The STRABAG SE leads the comprehensive project, HOBAS supplies 1600 m of GRP pipes with 3 m diameter.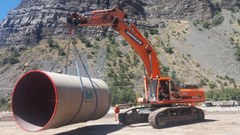 50 km southeast of the Chilean city of Santiago in the high Maipo River basin, a giant hydropower project is currently being built. "Alto Maipo" consists of two hydropower plants and will soon produce approximately 531 MW of green energy for Chile's capital region.
The supply line to the penstock of power station "Alfalfal II" initially was to be realized in concrete – however, the project team of STRABAG SE eventually opted for a solution by HOBAS with glass fiber reinforced plastic (GRP) pipes: Thanks to the comparably small necessary outside diameter with the same inside diameter and the simple handling of the much lighter and smaller pipes, a lot of excavation and costs are being saved and the progress of the works is considerably accelerated.
The impressive 1600 m HOBAS GRP pipeline with a diameter of 3000 to 3270 mm is currently being installed with the help of the two companies in front of the spectacular backdrop of the Andes Mountains. The installation is scheduled for completion in September 2017. The Alto Maipo hydropower complex is expected to be taken into operation in mid-2019.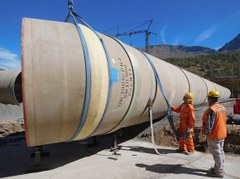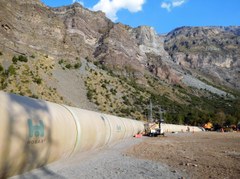 Contact
HOBAS Pipes International GmbH
Pischeldorfer Str. 128
9020 Klagenfurt
Austria
Phone:
+43 463 48 24 24
Fax:
+43 463 48 21 21
E-Mail:
info@hobas.com
Internet:
To website