Atlas Copco wins large order to supply mine in the Democratic Republic of Congo
Atlas Copco has won an order worth more than MSEK 100 (MEUR 11) to supply underground mining equipment for blast hole drilling, rock bolting, loading and haulage for the Kamoto Mine in the Democratic Republic of Congo.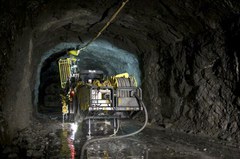 The order comprises four face drilling rigs, four rock bolters, four 15-tonne loaders, six mine trucks, as well as parts and accessories. The units are scheduled to start arriving on site in March 2007.
The Kamoto Mine in the Katanga province of the Democratic Republic of Congo is currently undergoing extensive development and rehabilitation work in order to restart production of copper and cobalt in 2007. According to an agreement with Kamoto Operating Limited, the joint venture managing the project, Atlas Copco will provide the primary fleet needed to restart the mine. The mine is expected to go into production in the fourth quarter of 2007, ultimately reaching an annual production of 150 000 tonnes of copper and 5 000 tonnes of cobalt.
"The Katanga Province has been supplying copper and cobalt to world markets for more than 70 years. Atlas Copco is proud to be supplying modern mining equipment to help the Kamoto Mine once again become a premier producer,"says Björn Rosengren, Business Area President, Atlas Copco Construction and Mining Technique.
The order was won by Atlas Copco Zambia Ltd, which has responsibility for the Democratic Republic of Congo. It will be booked in the fourth quarter.
Atlas Copco is a provider of industrial productivity solutions. The products and services range from compressed air and gas equipment, generators, construction and mining equipment, industrial tools and assembly systems, to related aftermarket and rental.
Atlas Copco Underground Rock Excavation is a division within Atlas Copco's Construction and Mining Technique business area. It develops, manufactures, and markets a wide range of tunneling and mining equipment for various underground applications worldwide. The division focuses strongly on innovative product design and aftermarket support systems, which give added customer value.
Further information:
Atlas Copco
Björn Rosengren, Business Area President, Construction and Mining Technique
Tel: +46 (0)8 743 83 14 or +46 (0)70 417 85 02
Web: www.atlascopco.com

Media contact:
Joanna Canton, Media Relations Manager
Email: media@se.atlascopco.com
Tel: +44 (0)1442 22 23 12 or +44 (0)7971 65 01 15