Aquam Innovation Day highlights leakage best practice
Some of the latest technology available in the battle against leakage was on display at an Innovation Day held at the UK headquarters of Aquam. Representatives of utilities, along with contractors and consultants, were given demonstrations of advanced systems to detect, repair and provide emergency supply in case of bursts and leaks.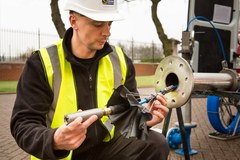 Among the technology demonstrated was the Leak Detection System (LDS) 1000, a non-disruptive system of assessing the condition of pipelines available from JD7, part of the Aquam group of companies. The LDS 1000 uses sensors which can detect the precise location of leaks without the need to carry out expensive excavations and interrupt customers' water supply.
Stable household cover
Aquam's Overland Supply Vehicle (OSV), shortlisted in this year's Water Industry Achievement Awards' category for 'most innovative technology', was also onsite.  The OSV can quickly provide stable cover to up to 24 homes that have lost water supply in emergency or during planned maintenance works. At the heart of the new temporary supply service is the Overland Supply Manifold, the first purpose-build device for multiple household connections in emergency and temporary disruptions.
Lead pipelining
Industry representatives were also given a demonstration of Aquam's advanced pipelining systems for small-diameter pipes – Serline and Nu Flow. This suite of no-dig technologies can be used on drinking water and wastewater pipes at much lower cost than pipe replacement. Developed in the UK by HTC, part of the Aquam group, the Serline blown-in epoxy pipelining system has full DWI-approval for use on potable water networks and is ideal for use on small-diameter lead service pipes.
The first stage of installation involves cleaning the pipe using HTC's Whirlwind technology to remove corrosive deposits; this is followed by coating the pipe's interior length with the blown-in epoxy liner. Recently arrived in the UK, Nu Flow's suite of pipelining technologies for clean water and wastewater networks was originally developed for use on US Navy aircraft carriers. The Nu Line epoxy system and Nu Drain structured liner can repair even the most badly corroded pipework. Both systems have an expected lifespan of 80 years.
UK availability
The technologies are all available in the UK from Aquam, a global company with offices in Manchester, Ireland and the US. Richard Coffey, Managing Director of Aquam Corp said: "I am delighted at the high level of interest in our technologies that the engineers and network operators attending our open day have shown. As UK water companies move into AMP6, it is more important than ever to find the best ways of preventing, detecting and repairing leaking pipes. "As well as meeting leak management targets, utilities are also expected to improve customer satisfaction, which our technologies are well placed to assist with.
Water industry professionals are not always aware of the potential of the advanced technologies in meeting these targets, so Aquam plans to hold more industry open days to help the industry keep up-to-date with the products and services available." Senior representatives of United Utilities, Murphy's and Amey were among those who attended the open day held on April 12, at Kingsley Hall in Manchester. Further events are planned in Manchester and Derby later in the year.
Contact
Aquam Water Services
Phil Walker
20 Bailey Lane, Manchester Airport
M90 4AN Manchester
United Kingdom
Phone:
+44 (0) 7867 356218
E-Mail:
pwalker@aquamcorp.co.uk
Internet:
To website