Aquam Corporation Launches Amplus: An Advanced Remote Operated Vehicle for Pressurized Water, Wastewater, and Industrial Pipelines
The data-driven technology represents a new era in municipal analysis and prevention assessment for water and other pipe-based infrastructure.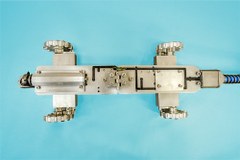 Aquam Corporation, a global provider of risk mitigation technologies for water and energy transmission and distribution assets, announced the launch of Amplus, the most advanced remote operated vehicle (ROV) for use in pressurized water, wastewater, and industrial pipe applications.
Amplus made its international debut at the American Water Works Association ACE18 conference and National Fire Protection Association (NFPA) in Las Vegas on June 11th and represents a massive advance in the infrastructure and analysis industry.
Amplus' disruptive technology allows Aquam to provide their customers with remaining pipeline lifespan through high resolution imagery and pinpoint accurate real-time data, enabling customers to develop informed maintenance and replacement strategies that optimize limited financial budgets. Amplus is set to be deployed by Aquam service providers with commercial, residential, utility, and municipal customers in the US and UK effective within the next 30 days.
"Data-driven information is the future of infrastructure management and the key to preventing mainline bursts. With a minimal incision, we're able to obtain real-time data on leaks, flow, blockage, corrosion, and pipe thickness – critical information to developing and executing a cost-effective rehabilitation plan," said Cameron Manners, Aquam's Chief Technology Officer. "Adding this cutting-edge technology to our pipe diagnostics offerings ensures our customers have the necessary data to extend budget dollars and spend smarter."
As technology improves and reduces in size, the opportunities for adopting remotely operated vehicles and robotics are rising; ROVs have become increasingly common in industries ranging from ocean and space exploration, to surgery, telecommunications, resource extraction and infrastructure maintenance. The underwater ROV market alone is projected to increase from US$2.69 billion in 2017 to US$5.20 billion by 2022.
Amplus' state of the art technology utilizes both forward and reversing high definition cameras, ultrasonic scanners and acoustic hydrophone sensors for collecting and transmitting comprehensive and high-resolution analysis of pipelines in real-time. Deployed through access points as small as 100mm (4") the ability to crawl through pipelines regardless of flow or pressure, is one of the strongest differentiators for Amplus.
Key features of Amplus include:
Lifespan analysis
Assessment capability of 2,000m (6,560') in one deployment
Comprehensive condition assessment data
Forward and reversing high definition camera systems
1,000 (3,280') cable tether
Ultrasonic scanning head
Hydrophone
512hz sonde
Two-motor axle mechanisms
Two-motor drive mechanisms
Stainless steel launch tube mechanism
Fully programmable using patented Amplus software
"The versatility of Amplus will change the way that the industry approaches infrastructure management," said Dan Squiller, CEO, Aquam. "Our products bring sustainable solutions to infrastructure challenges, and with Amplus we're not only able to empower our customers to take control of their future, but we've also provided them with the tools to develop an expedient solution saving them substantial emergency funds in the process. The addition of Amplus into Aquam's portfolio represents an industry breakthrough as we bring the most innovative and advanced solutions to our customers."
About Aquam Corp
Aquam Corp is a global provider of technology solutions for water and energy distribution infrastructure. We ensure the health, longevity, safety and reliability of vital resources for water & gas utility, municipal, commercial, residential and industrial markets. Our award-winning proprietary technologies address water scarcity issues by the diagnosis, cleaning and remediation of aging infrastructure. Aquam also provides end-to-end service solutions and technologies for the maintenance, life extension and full rehabilitation of network distribution infrastructure, which include: Nu Flow Technologies, a leader in small-diameter infrastructure rehabilitation technologies; Specialized Pipe Technologies (SPT), a pipe assessment & rehabilitation services provider; Aquam Pipe Diagnostics, a global pipeline assessment specialist. Aquam services are available in North America, South America, Europe, Africa, Australasia and the Middle East.
Contact
Aquam Corp
7710 Kenamar Ct, Suite B
CA 92121 San Diego
United States
Phone:
+1 888-683-5691
E-Mail:
info@aquamcorp.com
Internet:
To website