An Introduction to Infrastructure Funding
Find Funding for Your Wastewater System!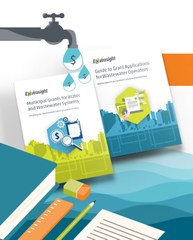 For water and wastewater organizations, securing additional funding can transform operations. In this free, two-part guide, Envirosight answers utilities' most frequently asked questions about grants and helps you understand the process of finding and applying for these opportunities.
If securing adequate funding for your water and wastewater organization seems like a never-ending battle, it's time to take a closer look at grants. For most collection system operators the biggest question is how: How to find them, research them and apply to them.
To answer your questions, Envirosight's FREE, two-part grant guide breaks down grant basics and provides advice for navigating the process.
Download The Guide to Infrastructure Funding now!