An example of an integral sewer rehabilitation in the public and private sphere
In 2008, the Civil Engineering Office of the city of Bochum in Germany planned the start of construction of the building project "Expansion of Herner Straße from Moritz- to Rensingstraße", including a reconstruction of the road and a new construction of sewers. Due to the high groundwater level and the resulting entry of external water, the drain systems were also included in planning according to the integral approach of rehabilitation (DIN EN 752).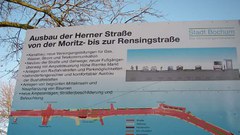 The Civil Engineering Office of the city of Bochum in Germany entrusted S & P to support the individual property owners concerned in implementing both leaktightness testing and, if need be, the required rehabilitations of the private drain system, especially the service lines. Furthermore, S & P should act as advisor to the owners for the duration of the building measure.
In the course of the municipal sewer project the Civic Engineering Office intended to renew all service lines that required rehabilitation in the public sector while sharing the accruing costs with the property owners.
The property owners had the possibility to optionally include the remaining service pipes and private domain sewers into the testing and rehabilitation scheme, and also to conform to the requirements regarding the tightness of the drain system according § 61a LWG that way. A multiplicity of owners accepted the offer of a collective realisation of these individual measures. Thus, reasonable economical as well as technical solutions could be achieved to the advantage of all people concerned.
S & P coordinated and accompanied the inspection works, assessed the condition of the inspected service pipes based on the inspection results and, if need be, developed a rehabilitation concept. In the form of an abridged report the results were documented individually for each property owner and related to the property. Our workings could be completed at the end of 2008.
In this project our positive experience from comparable projects that have already been completed also proved true, if you get in contact with the adjacent owners in the run-up to a sewer renewal or construction measure to achieve a joint operation in both public and private sphere.
Contact:
S & P Consult GmbH
Dipl.-Ing. Albert Hille
Konrad-Zuse-Str. 6
44801 Bochum
Germany
Tel: ++49 234 5167 0
Fax: ++49 234 5167 109
Email: office@stein.de
Web: www.stein.de
Contact
S & P Consult GmbH
44801 Bochum
Phone:
++49 234 5167 0
Fax:
++49 234 5167 109
E-Mail:
office@stein.de
Internet:
To website