American Water Names Deborah Degillio Senior Vice President of Its Eastern Division and President of New Jersey American Water and Robert MacLean President of American Water Enterprises
American Water has named Deborah Degillio senior vice president of its Eastern Division and president of New Jersey American Water, effective May 1, 2018. Degillio replaces Robert MacLean, who was named president of American Water Enterprises, encompassing the company's market-based businesses.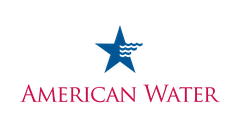 "I want to thank and congratulate Deb and Rob on their new well-earned roles," said Susan Story, president and CEO of American Water. "These organizational changes represent our commitment to developing leaders at American Water and promoting our internal talent.
"Deb did a great job leading our market-based business and we are so pleased to bring her leadership and expertise to our New Jersey operations. I am equally pleased to have Rob lead our market-based business, which is where he started his career at American Water," said American Water's president and chief executive officer Susan Story.
American Water's chief operating officer Walter Lynch added, "I also want to thank Rob for leading our Eastern Division and New Jersey American Water and welcome Deb. She has a strong customer focus and a deep understanding of our regulated business having started her career at American Water in our state subsidiaries. I know she will be a great fit for our teams in New Jersey, New York, Maryland and Virginia."
Degillio has served as president of American Water Enterprises since 2016 and has more than 20 years of broad experience in the utility and energy sectors. Prior to her role as president of American Water Enterprises, Degillio currently served as the vice president and treasurer for American Water.
Degillio joined American Water in 2007 and previously led teams focused on financial forecasting and analysis, business planning and process improvement, and served on American Water Enterprises' senior management team as the vice president of Finance. She has also supported the regulated states of American Water in her past roles as director of Financial Planning and Analysis and vice president of Finance for the former Eastern Division.
Prior to joining American Water, Degillio held multiple roles that included serving the utilities industry through mergers and acquisitions, marketing plans and projects focused on process change.
Degillio has a Master of Business Administration from the Stephen M. Ross School of Business at the University of Michigan, and a bachelor's degree in math/statistics and finance from the University of Wisconsin-LaCrosse. She lives in New Jersey with her husband and two children.
MacLean joined American Water in 1999. Prior to his current position, he served as president of California American Water since 2009 and president of Hawaii American Water since 2011. MacLean also served as the director of Field Operations for New Jersey American Water.
Before joining New Jersey American Water, he served in various other roles within the American Water organization. He worked for American Water's market-based business, serving as vice president of Contract Operations where he was responsible for managing more than 30 large contract operations and directed approximately 750 employees in both the United States and Canada.
MacLean co-chairs the board of the National Utilities Diversity Council, a national nonprofit organization focusing on the growth of diversity in the utilities industry. He also serves on the board of the Health Transformation Alliance, an organization representing close to 40 of the nation's leading corporations dedicated to providing better health care outcomes for 6 million Americans.
MacLean earned his master's degree in applied science in civil engineering from Polytechnique University in Montreal and his bachelor's degree in chemical engineering from McGill University in Montreal. In 2014, he attended the Stanford Executive Program at the Stanford Graduate School of Business. He lives in New Jersey with his wife and two children.
With a history dating back to 1886, American Water is the largest and most geographically diverse U.S. publicly traded water and wastewater utility company. The company employs more than 6,900 dedicated professionals who provide regulated and market-based drinking water, wastewater and other related services to an estimated 15 million people in 46 states and Ontario, Canada. American Water provides safe, clean, affordable and reliable water services to our customers to make sure we keep their lives flowing.
Contact
American Water
Ed Vallejo
Vice President, Investor Relations
1025 Laurel Oak Road
NJ 08043 Voorhees
United States
Phone:
+1 856-566-4005
E-Mail:
edward.vallejo@amwater.com
Internet:
To website