Akkerman Exclusive Notched Thrust Casing Assembly for Efficient Production
The Notched Thrust Casing Assembly is an exclusive design, wholly created and engineered by Akkerman. The differentiating points with the new casing include symmetrical notched connections that are secured with a casing collar and common hardware, along with their capacity for extended wear and tear.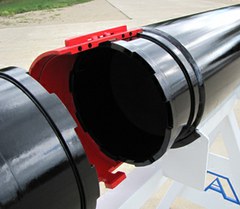 The foremost inherent value in this casing is that it ensures improved production. The casings join together by positioning the symmetrical notches into one another and are then secured with a collar for a flush circumference. The collar wraps around the join with common hardware. The casing connections are non-particular, since both ends are the same, so crew members need only orient the auger during positioning. Not only do they quickly connect, their removal is also expedited at the end of the drive. The casing's multiple wear points also prolong the casing life.
The Notched Thrust Casing Assemblies are available in standard and heavy duty sizes. The standard variety are able to withstand up to 100-tons of jacking force and 50-tons of pullback force and the heavy duty models with bear up to 200-tons of jacking force and 100-tons of pull back force.
The Notched Thrust Casing Assembly can be used with standard Akkerman augers, powered cutter heads and the powered reaming head kit to suit most typical sizes of product pipe for a wide range of geology. Each assembly is commonly packaged in a transportable, heavy duty basket that contributes to site safety and tidiness.
Contact
Akkerman, Inc.
58256 266th Street
55918 Brownsdale, MN
United States
Phone:
+1 (800) 533-0386
Fax:
+1 (507) 567-2261
E-Mail:
akk@akkerman.com
Internet:
To website