Aker Wirth Drilling Systems Used to Secure Mosul Dam
No fewer than 24 Aker Wirth universal drilling machines are currently in use for the continual maintenance of the Mosul Dam in Iraq. The Iraqi Ministry of Water Resources/State Commission for Dams & Reservoirs has now ordered parts for the B1-800 drills to the value of over € 1 million from our mechanical engineering company in Erkelenz, Germany. The delivery is scheduled for December 2010.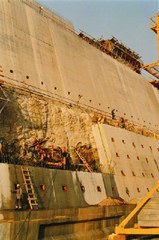 The Mosul Dam was constructed as a cofferdam in the 1980s. Due to the geology of the underlying ground (marl, gypsum, anhydrite and limestone) continual maintenance work is necessary to ensure the stability of the dam (grouting, high-pressure injection). This work has been carried out using different Aker Wirth universal drilling systems for many years now. Our drills have proven to be both highly economical and extremely reliable.
The Mosul Dam in the north of Iraq is the largest in the country. It serves as a reservoir for drinking water and, by means of a hydroelectric power station, also provides energy for millions of people in the local area. Over the years, Aker Wirth has established itself as a specialist for the Near and Middle East. The business with Iraq, which came about thanks to excellent regional contacts, puts us squarely on the map in this area and also represents a valuable contribution to the reconstruction of this war-wracked country.
Contact:
Aker Wirth GmbH
Simone Grüll
Kölner Str. 71-73
41812 Erkelenz
PH.: 02431 83-459
FAX: 02431 83-459
E-Mail: simone.gruell@akersolutions.com
Internet: www.akersolutions.com/akerwirth