Aker Wirth delivers first tunnel boring machine for the Koralm tunnel
Sep 11, 2012
Tunnel boring machine
The first of two Aker Wirth tunnel boring machines for one of the most important infrastructure projects in Europe was delivered in August 2012. The two telescopic shield machines each have a diameter of 9,93 m.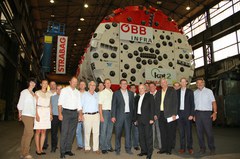 They will be in operation from the end of 2012 at the main construction lot, KAT 2. This section, approximately 18 km in length, represents the heart of the 32,5-km long Koralm tunnel. It is part of the new major high-speed train route linking Graz and Klagenfurt.
Access to the underground construction work areas is a particular challenge of this complex project. The only possibility is a 60-m deep shaft, through which the main components of the machine will be transported and subsequently assembled. "With this project, we can draw on more than 40 years of experience in hard-rock tunneling", said Hans Greve, Vice President Mining & Construction at Aker Wirth. "With our experienced employees and our customer's skilled personnel, we are confident that we will successfully meet the challenges regarding underground assembly."
Both telescopic shield machines are equipped with hard-rock cutting rings manufactured by Aker Wirth. The combination of these cutting tools with Aker Wirth's cutter head design ensures an optimal balance between durability and drilling performance.
"With the factory approval for the first TBM, we have reached a significant milestone for our KAT 2 (Koralm tunnel construction lot 2) tunnel construction project", said Robert Goliasch, machine engineer at ARGE Koralm tunnel KAT 2. "Together with our skilled personnel, we were able to be present during the assembly at the factory, to contribute to the installation and consequently get to know the new tunnel boring machine. As a result, we hope to gain time for the underground installation and for a speedy commissioning. The first performance tests have done justice to Aker Wirth's reputation as a manufacturer of high-quality tunnel boring machines for hard rock."
Koralm line project
With the Koralm line, the ÖBB (Austrian railway system) is constructing a new high-speed train route between Graz and Klagenfurt. This will reduce travel durations in the future by more than a half. This 130-km long key link is part of the Baltic-Adriatic Axis from Eastern Europe to Northern Italy via Austria. The Koralm tunnel, with two parallel single-track tunnel tubes and a length of more than 30 km, is the core of this railway line and will be one of the longest traffic tunnels in the world.
New innovation for underground mining
Together with Rio Tinto, one of the largest mining companies in the world, Aker Wirth has developed a new and innovative tunnel boring system, as part of Rio Tinto's "Mine of the Future" programme. The new machine concept combines the flexibility of a roadheader with the robustness of a tunnel boring machine and will substantially improve safety in underground mining. The Mobile Tunnel Miner is very flexible and, with the efficient undercutting technology, designed for particularly effective tunneling in hard-rock tunnel (tensile strength of up to 300 MPa). The innovative machine arrived in Northparkes copper mine in Australia a few days ago and is currently being prepared for its underground operation.
Dedicated employees for complex challenges sought
Complex projects such as these can only be successfully realised with experienced and dedicated employees. Consequently, Aker Wirth is seeking motivated employees to join its company, in particular in the areas of service and sales for technically sophisticated products.