Agenda Set for 9th Annual Tunneling Short Course
The agenda has been set for the 9th Annual Tunneling Short Course, course organizers announced. The Tunneling Short Course – titled "Breakthroughs in Tunneling" – is being held September 12-15 on the campus of the University of Colorado in Boulder.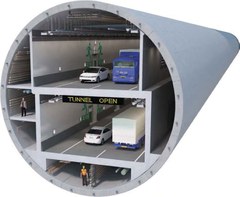 The Tunneling Short Course covers all aspects of tunneling – from planning and geotechnical exploration through to design and construction. The course material is presented by worldwide experts in the industry with practical experience, representing engineers, contractors, owners, equipment manufacturers and more.
This short course was established in 2008 by Levent Ozdemir, a world-renowned consultant in the field of tunneling and mechanical excavation, and Tim Coss, president of Microtunneling Inc. and executive director of the North American Microtunneling Association. The Tunneling Short Course quickly became the leading educational source for seasoned professionals looking to stay current on the industry's developments as well as those new to the market looking to build a knowledge foundation.
New to the agenda this year are case history presentations on some recent state-of-the-art tunnel projects – including the world's largest diameter TBM tunnel (the 17.6-m Tuen Mun – Chek Lap Kok tunnel in Hong Kong); the world's highest water pressure TBM tunnel (Lake Mead, Nevada) and the world's longest TBM tunnel (Alimineti Tunnel, India).
"The field of tunneling is constantly evolving, so there is a need to learn about the latest techniques and trends in the industry," Ozdemir said. "With that in mind, we keep the course up-to-date with the latest advancements that industry professionals need to know to build projects successfully."
While the Tunneling Short Course agenda, which includes over 35 presentations spanning three and a half days, is the top draw, there are plenty of networking opportunities, most notably the annual banquet dinner. As part of the banquet, to be held Sept. 14 at the Boulder Marriott, the Tunnel Achievement Award will be presented.
This year's Tunnel Achievement Award winner is the Lake Mead Intake No. 3 project near Las Vegas, Nevada, which faced the highest water pressures of any TBM tunnel in the world. The project was completed by Vegas Tunnel Constructors (a joint venture of Impregilo and Healy) for the Southern Nevada Water Authority. Project design was completed by Arup USA in conjunction with Brierley Associates.
For more information or to register, visit www.tunnelingshortcourse.com.
Contact
Benjamin Media Inc.
Vicki Miner
10050 Brecksville Road
44141 Brecksville
United States
Phone:
+1 330-467-7588
Fax:
+1 330-468-2289
E-Mail:
vminer@benjaminmedia.com
Internet:
To website