Advanced Drainage Systems Launches New StormTech Installation App for Contractors
The Latest Mobile App Makes StormTech Installation and Support Even Easier.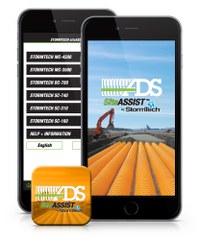 Advanced Drainage Systems, Inc., a leading global manufacturer of water management products and solutions, announced  the availability of its SiteASSIST™ mobile application.The new app provides detailed instructions and animated videos for the installation of StormTech
®
chambers, which are widely used in underground storm water retention and detention systems.
Another beneficial feature is the app's ability to provide the contractor with easy and efficient access to the ADS and StormTech engineering department.
The SiteASSIST app is an animated tutorial handbook with installation instructions. SiteASSIST allows the user to upload images and ask specific questions, which are timely addressed by ADS and StormTech engineering services. Additionally, contractors can schedule a pre-construction meeting via the app with ADS personnel before beginning the project installation.
"This app is an on-demand solution that will offer expedited support to help contractors solve potential site challenges that may arise during a project," stated Greg Spires, P.E., General Manager-StormTech. "At ADS and StormTech, we value our contractor partnerships and this app is an example of how we strive to provide value to our contractor partners and help them achieve successful results when using ADS product solutions."
Other ADS mobile apps include the ADS Installation Guides and the Agricultural Drainage App. All are available in English and Spanish and are free to download from the App Store and Google Play.
About Advanced Drainage Systems, Inc.:
Advanced Drainage Systems (ADS) is the leading manufacturer of high performance thermoplastic corrugated pipe, providing a comprehensive suite of water management products and superior drainage solutions for use in the construction and infrastructure marketplace. Its innovative products are used across a broad range of end markets and applications, including non-residential, residential, agriculture and infrastructure applications.  Founded in 1966, the Company operates a global network of approximately 60 manufacturing plants and over 30 distribution centers.
Contact
Advanced Drainage Systems, Inc.
4640 Trueman Boulevard
OH 43026 Hilliard
United States
Phone:
+1-800-821-6710
Fax:
+1-614-658-0204
E-Mail:
adsinternational@ads-pipe.com
Internet:
To website