Advanced Drainage Systems Launches "ADS Installation Guides" Mobile App
New app enables contractors to access installation information on the go.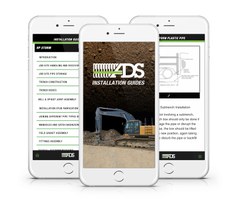 Advanced Drainage Systems, Inc., a leading global manufacturer of water management products and solutions, announced the launch of the "ADS Installation Guides" mobile application, offering everyday installation instructions for its thermoplastic pipe products. The app is a resource to provide guidance on the installation of ADS pipe used in both storm water management and sanitary sewer applications.
With specific instructions from job site handling and receiving, to in-field testing recommendations, the app is designed to be an easily accessible handbook for on-the-go contractors. Installation instructions are provided for N-12®, SaniTite® HP and HP Storm pipe products.
"We wanted to provide our customers with easily accessible instructions, which complement the educational and personal support efforts of our national sales force" stated Bob Klein, Executive Vice President of Sales at ADS. "We are committed to bringing innovative solutions to market and providing best-in-class customer satisfaction. ADS Installation Guides is a continuation of that commitment."
The app provides information on a variety of topics, including product handling, storage, joint assembly and installation. The app is available in English and Spanish and is free to download via the App Store and Google Play.
About ADS
Advanced Drainage Systems is the leading manufacturer of high performance thermoplastic corrugated pipe, providing a comprehensive suite of water management products and superior drainage solutions for use in the construction and infrastructure marketplace. Its innovative products are used across a broad range of end markets and applications, including non-residential, residential, agriculture and infrastructure applications. Founded in 1966, the Company operates a global network of approximately 60 manufacturing plants and over 30 distribution centers.
Contact
Advanced Drainage Systems, Inc.
4640 Trueman Boulevard
OH 43026 Hilliard
United States
Phone:
+1-800-821-6710
Fax:
+1-614-658-0204
E-Mail:
adsinternational@ads-pipe.com
Internet:
To website