ADB Assistance to Typhoon Recovery Reaches $1 Billion
The Asian Development Bank (ADB) has so far approved $900 million in assistance for livelihood restoration, infrastructure reconstruction climate resilience initiatives in communities affected by Typhoon Yolanda, as well as budget support to the Government of the Philippines.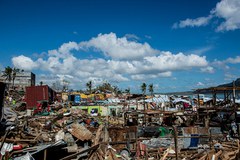 In addition to the loans and grants already approved by the ADB Board of Directors, up to $150 million from ongoing projects can also be reallocated to support conditional cash transfers, infrastructure reconstruction, and natural resource management, which would push ADB's support in excess of $1 billion. Average ADB lending to the Philippines is about $600 million per year.
"We stand shoulder to shoulder with the Philippines to build back better. A ray of hope is what we offer to affected people through our support for the government's reconstruction plan," said ADB Vice President Stephen Groff at the briefing for Philippine development partners on reconstruction assistance on Yolanda. "ADB's assistance is meant to help ramp up livelihood restoration programs, rebuild crucial services, and ensure farmers and the fishing community have the tools they need to get back on track."
ADB will also establish a field office in Tacloban to help implement projects as part of the government's reconstruction plan. A field office should maximize responsiveness and efficiency and allow ADB to be present as government and affected communities require.
With reconstruction costs estimated to exceed $8 billion, ADB stands prepared to offer further support.
The $900 million package approved by ADB consists of $23 million in grants, a $500 million emergency loan, and a $372 million loan for a community-driven development program that will help rebuild about 6,000 barangays devastated by the typhoon, benefiting more than 4 million people.
Contact
Asian Development Bank
Karen Lynne Palmer
6 ADB Avenue
1550 Mandaluyong City
Philippines
Internet:
To website