Achieving Great Things With Pipe Jacking
Akkerman equipment is designed for accuracy, durability, ease of set-up and powerful jacking force. In the case of PCi Roads' application in Minneapolis, sometimes our customers simply want to jack pipe. What may be lacking in equipment capability in this story is made up for with a rich history about Minneapolis's sewer systems.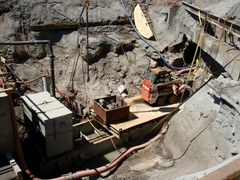 Minneapolis experienced incredible growth, following the arrival of the first settlers in 1848. In 1860, the population was around 2,500 and a decade later it increased to 13,000. Over the next decade, from 1880-1890, the population grew from roughly 47,000 to 165,000. In 1890, it grew again to 165,000 and by 1910 it was at 301,000. To accommodate the emergent need for infrastructure, the City of Minneapolis erected the first combined storm and sewer tunnel infrastructure in the downtown area in 1870. Upon its completion, about a decade afterward, it was comprised of 2.5 miles of open trench tunnels. In 1882, the city completed an additional 3.5 miles of new sewer and storm water tunnels in just one year. By 1892, an additional 7.3 miles were created bringing the total to 106 miles of storm water and sewer lines, of which 4.7 miles were tunnels like the one highlighted on this project. By 1918, there were 441.5 miles in the total system. All these pipelines and tunnels lead to the Mississippi River, causing major health risks which ultimately lead to the creation of the Minneapolis-St. Paul Sanitary District in 1933.
A hand-minded tunnel, located at 2nd Street SE and 10th Avenue SE on the north side of the Mississippi (and the new I-35 Bridge today) was constructed in 1882 with extensions added in 1893 and 1913-1914. The tunnel, 78-inch in diameter and 504-feet in length, was hand chiseled and blasted through limestone. It was sculpted with an inverse curve at the bottom, and lined with bricks and a concrete layer at the top. Since these were combined storm water and sewer systems, the limestone walls were non-corrosive for solid waste and the concrete top layer provided reinforcement from settling. The larger opening at the top of the tunnel accommodated a larger capacity opening for large amounts of rainfall.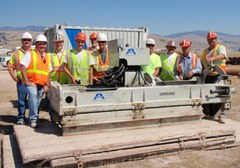 Flash forward to 2011, several tie-ins and alterations later, Minneapolis now needs to increase the 10th Avenue Tunnel's capacity to accommodate 144-inch OD RCP. Now only used for storm water drain flow, contractors are getting some experience with what it was like to create this tunnel by removing the layer of concrete and exposing the original hand-mined limestone. Luckily, crew members get to use jack hammers rather than chisels and mallets. Part of the tunnel has eroded over time and some has been blown out on the flat area leading to the shore of the Mississippi River. The tunnel's total length is now about 400-feet. The 10th Avenue Tunnel and Storm Sewer Rehabilitation was designed by CNA Consulting Engineers of Minneapolis.
Because the tunnel outlet lies alongside the Mississippi River, alterations require a permit from the Army Core of Engineers. This process triggered consideration for eligibility into the National Register of Historical Places (NRHP). After completing the process of surveying and assessment for the NRHP, it was determined that archived documentation is an acceptable way to mitigate preservation and proceed with construction.
Using jackhammers and a skid loader with a modified bucket for spoil removal, PCi Roads is running two shifts per day. As crew members excavate enough to accommodate the full length of a pipe segment, an Akkerman 5000 Series Pump Unit, skid and yoke direct jack the RCP into the tunnel. While this production may seem slow in comparison to a typical TBM set-up, it is the most cost effective approach to the project. Construction is hindered if a mere ¼ inch of rain befalls the city and it's been a really rainy season so far. Despite this, crew members are making good progress.
At the time of publication, PCi Roads had completed 104-feet of pipe installation. The tunnel excavation comprises the majority of work on this project with the exception of a few minor tunnel repairs. An anticipated completion date is set for September 2011.
Great Distances
On other projects great distances are being achieved by several of our customers using the Akkerman Inc. Guided Boring Machine (GBM) 240A jacking frame mounted to an auger bore rig. Two customers reported on recent 580-foot drives. Both attribute their successes to advanced soil investigation, machine performance, ideal soil conditions, lubrication and a bit of good fortune.
Auger boring, one of the original trenchless pipe installation methods, while powerful and cost effective, has always lacked steering and distance capabilities. When used alone, even the most experienced operators can rarely jack pipe further than 200-feet. Crews using a pilot tube microtunneling system (PTMT) like the GBM, in conjunction with an auger boring machine maximize drive lengths, ensure bore accuracy, reduce casing diameters, expedite the job and avoid down time associated with failed bores. Akkerman Inc. reports that approximately 54% of its GBM systems are primarily used for auger bore rig applications.
When using the GBM 240A jacking frame with an auger bore rig, the pilot tubes establish the desired path on line and grade. The jacking frame is mounted on the auger bore rig rails with a universal adapter. A theodolite and camera is mounted between the jacking frame and auger bore rig to sight-down the center of the pilot tubes. Once the pilot tubes have been installed, the weld-on reaming head is attached to the last pilot tube section and welded to the first steel casing section. Operators then proceed with standard installation. As the pipe string advances, pilot tube sections are removed from the reception area.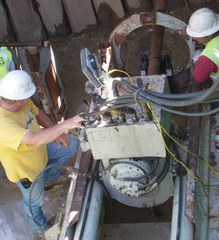 Akkerman Inc.'s distinctive dual-walled pilot tube design provides a means to lubricate throughout the drive, thus minimizing jacking force and rotational torque. Operators view the illuminated LED target on a computer monitor in the launch area to ensure that line and grade tolerances are met.
A 580-foot drive was completed in April 2010 by project subcontractor, Magnum Tunneling LLC of Houston TX. The Capital Lake Drive and Gayosa Street Sewer Improvements project is owned by the City of Baton Rouge, East Parish. The full trenchless scope of the project includes additional GBM drives along with much open-cut gravity sewer work. Magnum Tunneling operators installed 36-inch OD rolled steel casing pipe in 20-foot lengths. The crew completed this impressive drive in 18-shifts in three weeks.
General Manager Tim McQuery states "This project required crossing a spur and mainline tracks of the Kansas City Southern Railroad facilities where a 300-foot area between the tracks could not be accessed." Going into it, McQuery's primary concerns with the length of the bore were "pressures on the hydraulic equipment and seizure of pilot tubes and/or casings due to varying ground conditions." The use of drilling fluids and consistent ground conditions mitigated pressure issues. Additionally, crews worked 10-12 hour shifts for decreased soil compaction and maximum production rates.
A second 580-foot drive was achieved in August 2010 by subcontractor Ed Boland Construction Inc. of Great Falls, MT. This drive took place at the Missoula International Airport, where a water line extension connected a runway to a new air traffic control tower. Contractors installed 24-inch OD steel casing to house 12-inch OD PVC. The open launch shaft was set up seven feet under the runway. The drive's grade was nearly flat so an accurate bore was essential. The red, stiff clay was just right for the drive, although Ed Boland Construction crew members also used a bentonite gel recipe to enhance the process by reducing jacking force. The full breadth of the job included four other short utility drives. The pilot tube step took one day while the pipe installation was completed in two weeks. The project's main contractor was Knife River Corporation and engineer was Morrison and Maierle, Inc., both of Missoula, MT.
As with any critical grade bore and despite their careful planning, Barry Boland joked that he "incurred many sleepless nights combined with rattled nerves until the completion of the job." Recognizing that advance soil investigations are key to attaining these lengths, Boland noted that "with any other soil condition, we wouldn't have taken the chance with this long of a drive." He concluded, "we were very pleased with the outcome and appreciate the assistance from the Akkerman Inc. technician."
Contact
Akkerman Inc.
58256 266th Street
55918 Brownsdale, MN
United States
Phone:
(+1) 507-567-2261
Fax:
(+1) 507-567-2605
E-Mail:
akk@akkerman.com
Internet:
To website