Abnormal weather plays havoc with buried infrastructure
Dallas Water Utilities Discovers Massive Hidden Sinkhole And Achieves Huge Savings Through Annual Leak Detection Program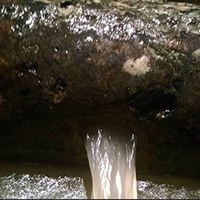 The year began with the Lone Star state experiencing its fourth year of drought, compelling State Governor Greg Abbott to reissue an
Emergency Disaster Proclamation
in early May to deal with the declining aquifer levels and severe water shortages. Only a few weeks later, torrential rains flooded so much of the state that the Governor issued another Emergency Disaster Proclamation to prepare for the new crisis. Then, another long stretch of baking heat.
Weather extremes push water utilities to the limit
For most utilities, weather can play havoc with buried infrastructure. While drought can cause the dry brittle ground to shift and pipes to break, excessive rain can result in washouts, loss of bedding and risk for accelerated pipe failures.
In 2015, weather extremes in such a short period taxed water utilities across Texas. Despite the challenging environmental conditions, Dallas Water Utilities (DWU) moved forward to carry out its annual leak detection program. Over the years, DWU has focused its water loss reduction efforts on both its critical large-diameter transmission mains, which have the highest consequence of failure, and on its distribution systems.
Detection results include discovery of a large pipe leak near a major roadway
Crews successfully used the Sahara® tool to locate 10 leaks in 16 miles of inspection.
DWU's first condition assessment program using electromagnetics was completed in 2001, followed by the use of newer leak detection technologies in succeeding years. The program is now in its 14th year of operation, and DWU has become a showcase utility for proactive pipeline management, a fact recognized by the Texas Water Development Board.
DWU adds 16 miles to its leak detection program in 2015
DWU's distribution system is one of the largest in the United States, being a regional provider, the utility delivers water service to 2.4 million customers within the Dallas and surrounding city limits. The major distribution system includes over 4,900 miles (7,800 km) of distribution and transmission mains.
DWU's goal is to continually evaluate, upgrade and replace its water and wastewater assets in order to make its systems operate efficiently. DWU's long-time partner in this infrastructure endeavour is Pure Technologies (Pure). This year Pure was contracted to perform leak and air pocket detection for 16 miles (25.7 kilometers) of water mains made of a variety of materials, including prestressed concrete cylinder pipe, (PCCP) cast iron pipe (CIP) and ductile iron pipe (DIP).
DWU deploys inline detection tools
For inspection of its transmission mains, DWU has long used Sahara leak detection and inline closed circuit video (CCTV) provided by Pure. More recently, DWU has also used SmartBall® technology for longer inspections.
Sahara is the first tool designed for live inspection of large-diameter mains, and one of the most accurate tools available for detecting leaks, gas pockets and structural defects in complex networks typically found in urban environments.
The tool is pulled by the flow of water by a small drag chute while the line remains in service. When the sensor is inserted into a 2-inch tap, it remains tethered to the surface. This allows for real-time results and maximum control, as the tool can be winched back and forth to immediately confirm suspected leaks and other anomalies. The sensor is also tracked at ground level by a staff member, allowing for precise spot markings for excavations.
Detection results include discovery of massive sinkhole near major roadway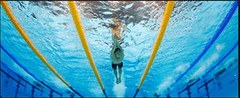 The 2015 inspections, conducted over 23 days, challenged the Pure and DWU crews as they faced an environment with temperatures soaring to 104°F (41°C) on many consecutive days.
In spite of the trying working conditions, the crews successfully used the Sahara tool to locate 10 leaks in 16 miles of inspection. This included the unexpected discovery of a very large leak in the barrel of a 12-inch ductile iron water main. DWU's proactive repair prevented a collapse since the large leak was creating a cavernous sinkhole near a major roadway.
By locating and repairing the leak, which had been seeping water for an estimated year, DWU averted a potential catastrophic crisis and saved the utility at least 893,000 gallons of lost water per year, equivalent to filling 1353 Olympic-sized swimming pools.
Large leak discovery saved DWU at least 893,000 gallons of lost water annually, equivalent to filling 1353 Olympic-sized pools (YouTube video).
Sahara and SmartBall inspections in Dallas have been extremely successful, locating 160 leaks in 209 miles. The estimated water savings from these leaks is about 4 MGD. For DWU, the reduction in failures has reduced loss claims and service interruptions, as well as reduced treatment and delivery costs.
Whatever the weather, DWU is moving forward.
Contact
Pure Technologies
300, 705 - 11th Avenue S.W.
T2R 0E3 Calgary, Alberta
Canada
Phone:
+1 (403) 266-6794
Fax:
+1 (403) 266-6570
Internet:
To website