A superb atmosphere at the BAUMA 2007
There was hardly a visitor, or even an exhibitor, who wasn't impressed with the BAUMA in Munich including the TT Group of Companies. The positive mood and excellent current economic situation laid the foundations for a relaxed atmosphere, where not only sales interests were apparent, but also numerous orders were actually placed.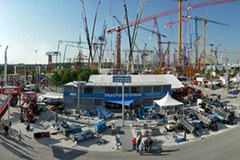 No restraint whatsoever. It is especially pleasing to see that investments in the domestic market in Germany are gaining in strength. Export business was very good in 2006 anyway and is clearly still getting stronger.
The huge crowds visiting our stand were sometimes so immense that the exhibition stand team of over 50 members was totally overloaded. Everybody had to help out where they could. Even the large stone mole, the market symbol of the TT Group, had to assist the personnel by operating the gas pedal, during the constant Grundodrill 25 N presentation, which took place. This brought a smile to the visitor's faces.
The beer consumption totalling 2000 litre over the 7 exhibition days does not give any indication to the success - but does indicate that there was an unusually strong frequency of visitors at the TT exhibition stand. The total stand size of 1500 m² was the largest TT exhibition stand to date.
There was a very strong interest in the GRD bore units for obtaining geothermal energy. It's new concept and compact construction help to reduce the bore costs. There was also a lot of interest in the steerable bore rigs in all performance ranges, especially the new Grundodrill N generation, sizes 15 and 25 N, the polished Grundoburst technology, and of course the classic Grundomat soil displacement hammer.
This is clearly supported by the fact that we always listen to innovative ideas and requests of our customers, when developing or improving our machines for this technology. We at TT feel that the practical efficiency and the functionality in all bore situations is extremely important.
One of our visitor's made the following comment: the prominent TT machines really shine in their competence, signalling powerful capabilities and giving the impression of reliability with their successful components, which is constantly being confirmed in daily applications.
Kontakt:
TT UK Ltd.
10 Windsor Road
Bedford MK 42 9SU
Tel.: +44 (0) 1234 342 566
Fax: +44 (0) 1234 352 184
eMail: info@tt-uk.com
Web: http://www.tt-uk.com