A new butterfly valve for almost any application
The GEMÜ range of butterfly valves is now one version richer. The new GEMÜ D480 series is the most versatile butterfly valve we have ever had in our range.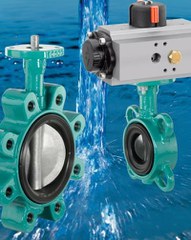 The new GEMÜ D480 wafer pattern butterfly valve is available in nominal sizes DN 25 - 1400. A wafer type version, an endflange version with threaded holes and a double flange version are available body configurations. The installation length is in accordance with EN 558-1 basic series 20. Connection standards to DIN (PN10/16), ANSI 150, JIS and BS can be supplied. Standard pressure ratings are 10 bar and 16 bar. A softsealing concentric version of the D480 butterfly valve is suitable for pressures up to 25bar. The butterfly valve complies with the safety requirements of Annex I of the European Pressure Equipment Directive 97/23/EC for fluids of group 1 and 2.
A wide range of materials and coatings is available for the body and butterfly disc extending from SG iron to superduplex steels. Coating materials are Resicoat
®
, Rilsan
®
or Halar
®
. The temperature limits for the working medium range from -40°C up to max. 200°C, depending on the material selected.
Seats and approvals
The seats are available in 17 different versions from EPDM to Viton
®
(FPM). These include an FDA compliant EPDM and a version for drinking water. The drinking water version fulfils the requirements of ACS, KTW, WRAS and W270. Exchangeable seats or seats vulcanised to the body can be supplied. Vulcanised seats are particularly suitable for applications involving high pressures, mechanical stress and vacuum.
Operators
Type series D480 features a top flange in accordance with EN ISO 5211 for mounting various operators. Hand lever, gearbox, pneumatic actuators and motorized actuators in an open/close version or control version are available. The pneumatic GEMÜ D481 butterfly valve is manufactured with the triedandtested GEMÜ ADA/ASR or DR/SC actuators in single or double acting versions. The pneumatic actuators can be equipped with an extensive range of accessories such as pilot valves, electrical position indicators, combi switchboxes and positioners. Accordingly, the new valves can be integrated into any automated system without difficulty.
Areas of application for GEMÜ D480 The great variety of body/disc materials and coatings as well as the wide range of seats provides for an extensive range of possible applications. From standard discs in SG iron to super duplex discs or Halar coated discs for corrosive media, no wishes are left unfulfilled. The butterfly valve is used in the following industries for example:
- Chemical industry
- Mining and metal extraction
- Steel works
- Water and wastewater treatment
- Sea water desalination
- Pharmaceutical and semiconductor industry
- General industrial processes
GEMÜ Gebr. Müller Apparatebau GmbH & Co. KG
Fritz-Müller-Straße 6-8
D-74653 Ingelfingen-Criesbach
www.gemue.de
info@gemue.de
Telefon +49 (7940) 123-0