A Culvert Rehabilitation System Could Have Prevented Sinkhole in Lynden, Washington that Swallows Street after Record Rains
An InfraSteel culvert rehabilitation system could have prevented sinkhole in Lynden, Washington that swallows street after record rains. Sinkholes associated with road collapses are not acts of nature, but instead the result of failed dilapidated culverts.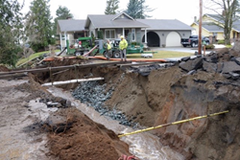 An InfraSteel culvert rehabilitation system, from Precision Pipe and Products, could have prevented sinkhole in Lynden, Washington that swallows street after record rains. A sinkhole associated with road collapse is not an act of nature, but the result of a failed, dilapidated culvert.
According to InfraSteel executive Cullom Walker, "It is a misnomer to blame sinkholes associated with culvert failure as acts of nature. They are the result of our country's failing infrastructure. Each day in the U.S., motorists drive over countless culverts. These are America's unseen bridges where water from streams, creeks and drainage flows under our roads. When these culverts are not inspected and rehabilitated, over time their failure is inevitable, which puts the lives of motorists at risk."
The sinkhole in Lynden, Washington occurred on February 15 this year. The culvert failure is expected to take months to repair, costing between $500,000 to $1,000,000. Emergency vehicles, commercial vehicles and motorists will have to be diverted around the failure. Not only do these detours inflict opportunity costs onto the community, but they also put lives at risk since emergency vehicles take longer to respond. Sinkholes will continue to occur unless all old culverts are inspected and repaired.
Walker adds, "Some states like Virginia and New York have been proactive in the inspection and repair of their failing culverts. Utilizing a variety of rehabilitation methods, they have saved taxpayer money and lives by fixing the culverts before their roads collapse. These states, counties and municipalities understand they are not dealing with acts of nature but incidents of rotting infrastructure. Culvert failure can be prevented with proactive inspections and culvert rehabilitation programs. Putting other political issues aside, let's hope that the Trump administration will make good on its promises to repair our country's infrastructure."
Precision Pipe and Products has developed InfraSteel to rehabilitate failing culverts and bridges. InfraSteel provides a new life expectancy of 50 to 100 years and is a cost-effective and environmentally friendly solution for the repair of failing structures.
Contact
InfraSteel
Cullom Walker
AL 35210 Birmingham
United States
Phone:
+1 205-613-0072
Fax:
+1 205-327-8173
E-Mail:
info@infrasteel.com
Internet:
To website