7th World Water Forum 2015
With its core value of "implementation," the 7th World Water Forum will take place in Daegu & Gyeongbuk of Korea from April 12 to 17, 2015. The World Water Forum is the largest water-related event organized by the World Water Council every three years.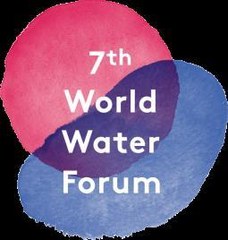 The 7th edition of the world's largest water event will gather over 35,000 participants from the international water community: academics, research institutions, enterprises, professional networks, governments and policy-makers, IGOs and NGOs.
The water crisis has become a key international challenge
For instance, in the Global Risks 2014 Report by the World Economic Forum in January 2014, water crisis was listed as one of ten major risk factors threatening the world economy. The water challenges require joint responses, not a solution at an individual country level. In this regard, the World Water Forum provides the discussion framework for water-related issues by mobilizing international cooperation.
A political, regional, thematic and scientific preparation
The World Water Forum consists of four Processes: the Thematic Process discusses themes and shares information; the Political Process facilitates discussions among ministers, parliamentarians and local & regional authorities in order to raise awareness of global water challenges as well as call for political will of governments, policy makers, etc.; the Regional Process provides a place for participants to discuss solutions related to water issues among neighboring countries while highlighting region-specific issues.
In addition to these three Processes, Korea proposed in its bid document to have a Science & Technology Process highlighting the importance of science and technology in resolving water-related issues. It is expected that the Science & Technology Process will contribute to encourage the exchange of latest technologies and information and bridging the gap between developed and developing nations. The 7th World Water Forum will also be composed of cultural events, water co-located events, a water exhibition, and a Citizen's Forum, including a Youth and Children's Forum, to raise citizens' awareness in favor of water.
2015: A crucial year for Water and Development
The year 2015 is highly significant because the Millennium Development Goals set in 2000 will expire and the international community will establish new goals. In this context, it is expected that the 7th World Water Forum will discuss key agenda related to water as well as become the starting point for the Sustainable Development Goals, the new goals that the global community should pursue for the next 15 years.
In celebration of D-300 of the 7th World Water Forum, the National Committee held a ceremony on June 19 in Daegu to create an uplifting atmosphere for the coming 7th World Water Forum.
The registration for the 7th World Water Forum will start in August and the registration for Expo and co-located events will start in July through the official website: http://eng.worldwaterforum7.org/